ZAB - how to apply for evaluation of your qualification in Germany in 5 steps
If your Anabin status negative ("H-" or "H+/-"), apply to ZAB
This tutorial focuses on the recognition of foreign Bachelor's and Master's degrees (or comparable). The information source is German federal service called KMK with the ZAB Head Office in Bonn, Germany.
Screenshot 1. (Source: www.anabin.kmk.org)
Briefly:
Diploma evaluation by ZAB is a costly process. Here is how to check if we really need it.
First check the acceptance of your institution (university) and then check if your degree is equivalent to a German degree.
If your university is accepted (Anabin status H+) AND your degree is recognised in Germany, you can directly apply for jobs or start your studies in German universities. In that case you are lucky and do not need to read this article.
If your status is "H-"" or even just a "H+/-", additional steps (and a fee) must be done. The solution called ZAB.
For this you go to ZAB, fill out a form, send your documents, pay a fee.
Within 2 weeks up to 3 months they will check your qualifications. Then you receive a certificate of recognition (s. sample above).
Instructions - Step-by-step
What to do if the status is H+/-?
ZAB declares:
It is not possible to define a unified status for these institutions at the institution type level. This group is also not homogeneous. Two groups of cases can be distinguished:

- The type includes both recognized and non-recognized institutions;
- In the country of origin there is no status determination with regard to the institutions. Recognition (accreditation, attestation, etc.) in the country of origin concerns only the degree programmes/degrees.
ZAB concludes:
For H- status as well as H+/- status, it is recommended to apply to the ZAB for a certificate evaluation.
KMK is acronym for Kulturminister Konferenz (En: The Standing Conference of the Ministers of Education and Cultural Affairs);
ZAB is acronym for Zentralstelle für ausländisches Bildungswesen (En: Central Office for Foreign Education).
General information about the recognition is here.
STEP 1 - learn required documents
Go to the page "Required Documentation. List by country". Select the country where you studied from the list. You will get to another page with listed required documents for your particular country.
If your country is not listed, go to the general page with the required documentation.
Here is an example for India.
There are two main documents you need to submit:
1: the official diploma of higher education degree in the original language;
2: transcript of records of the subjects and marks of every study year.
3: only if available: The Europass Diploma Supplement
Scroll down and read Do I need to translate my diploma into German?
If two original documents were issued for the same higher education qualification, you need to send to ZAB both documents.
Please do not send original documents!
In most cases, German authorities require original docuents only at personal appearances.
Go UP
STEP 2 - prepare required documents
Collect additional documents. Please hand in simple copies of the following documents:
4: your employment contract (only if you are applying for a Blue Card)
5: your Secondary School Leaving Certificate which gives access to higher education in your home country
6: all degrees received before the degree which is to be evaluated in the original language along with a transcript of records
7: a confirmation of the university about the duration of studies and the mode of attendance (in case this information is not included in the transcript of records)
8: your passport or identity card
9: the official proof of a possible change of your name (provided that this is not evident from your identity card or passport)
Note that you do not need a translation for the documents 4-9.
Go UP
Do I need to translate my diploma into German?
Languages of your diploma that do not require translation into German: Arabic, English, French, Italian or Spanish.
If your documents are not in one of these languages, a translation into German is required. Read the article How to translate documents.
Still anything uclear? Feel free to contact ZAB support or to contact us, MIGWORK.
www.kmk.org/zab/zentralstelle-fuer-auslaendisches-bildungswesen/zeugnisbewertung-fuer-auslaendische-hochschulqualifikationen/antrag-und-gebuehren
INDEX
Step 3 - fill the questionairy and get your reference number
I assume that you have collected the above mentioned documents. Now it is time to complete the ZAB online application and send it to ZAB by regular post.
The further explanations are based on the case of Mr. R, whose degree in management was recognized by the Anabin but not issued by the institution indicated there.
First of all, fill out the application form (s. screenshot 2).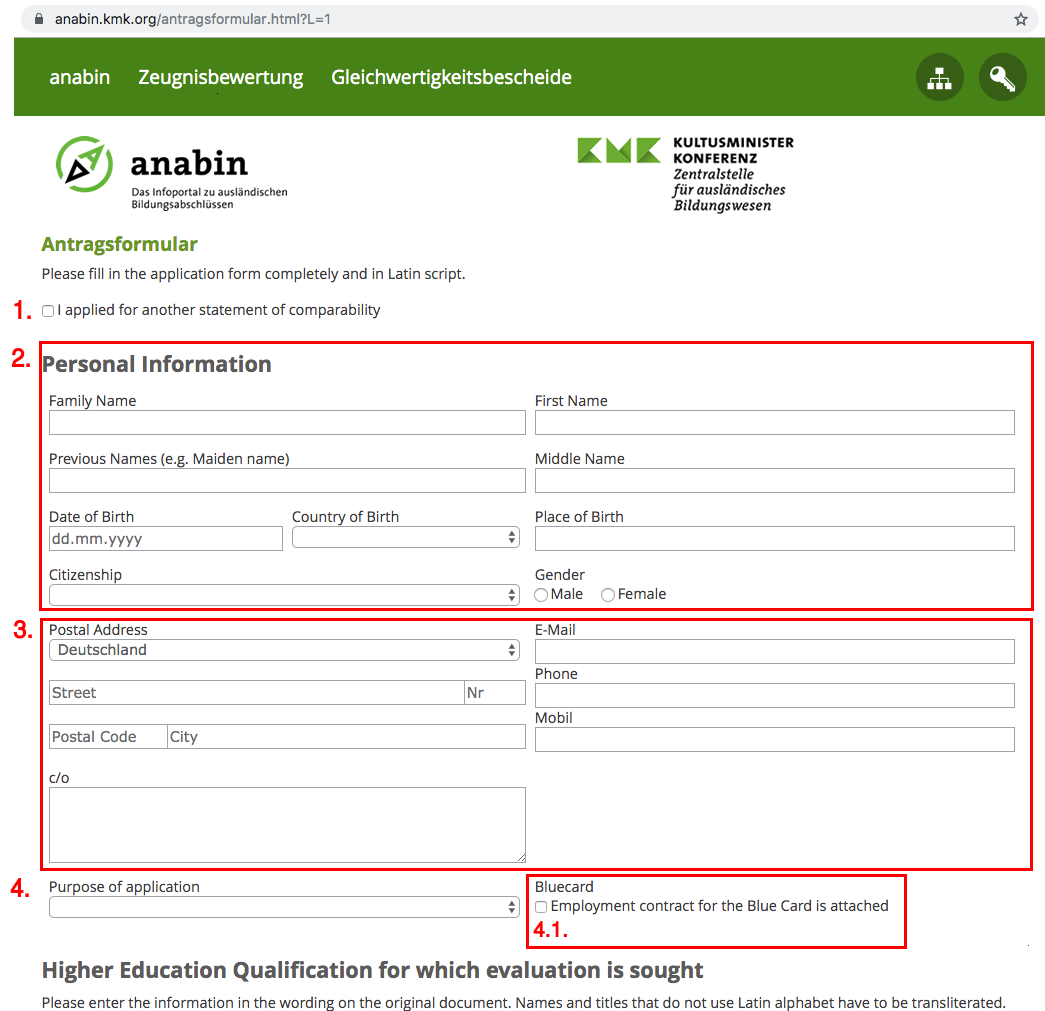 Screenshot 2.1 - ZAB online application form (Source: www.anabin.kmk.org)
Explanations to the figures on the screenshot
(1) - Leave this checkbox empty (unless you have already submitted another application earlier).
(2) - Note that you must enter your citizenship (not the nationality).
Previous Names - leave this box empty unless you haven't ever changed your last name.
Middle Name - write your father's first name (if it is given in your passport).
Place of Birth - write it as given in your passport).
The rest of (2) is simple.
(3) - Give the postal address in the country where you are registered.
Important! Please make sure to enter your postal code. If you don't know the postcode, google it. If still no success, give the postal code of the Main Post Office in your town.
Phone and Mobile: don't forget about international standards (e.g. +38... for the Ukraine, +44... for UK, +91... for India etc. )
'c/o' is an abbreviation for 'care of'. You write c/o when you are temporary staying at that particular address. Even if you don't stay there, but have a trustee who receives your correspondence.
Example: John Smith c/o Jaroslav Plotnikov, Flughafen Str. 21, 12053 Berlin means that John Smith will receive letters and other mail even if his name is not shown on the mailbox at Flughafen Str. 21. The mailbox shows the name of the registered tenant only (Jaroslav Plotnikov). This is quite enough for the postman.
(4) - Purpose of application
If you want to work in Germany, choose one of the first three options that suits you mostly:
Berufsausübung - Professional activity
Blue card angestrebt - Blue card intended
Blue card beantragt - Blue card applied for
Gradführung - Degree guidance
Visum - Visa
Weiterbildung - Further education
(4.1.) - tick the box only if an employment contract between you and employer in Germany available.
Higher Education Qualification for which evaluation is sought
In this section you specify the information from the diploma that you will send for the evaluation.
The further explanations are based on the case of Mr. R, whose degree in management was listed by Anabin but not issued by the institution indicated in Anabin.
Screenshot 2.2. Original Russian degree of Mr. R (Source: Blue Card Agency)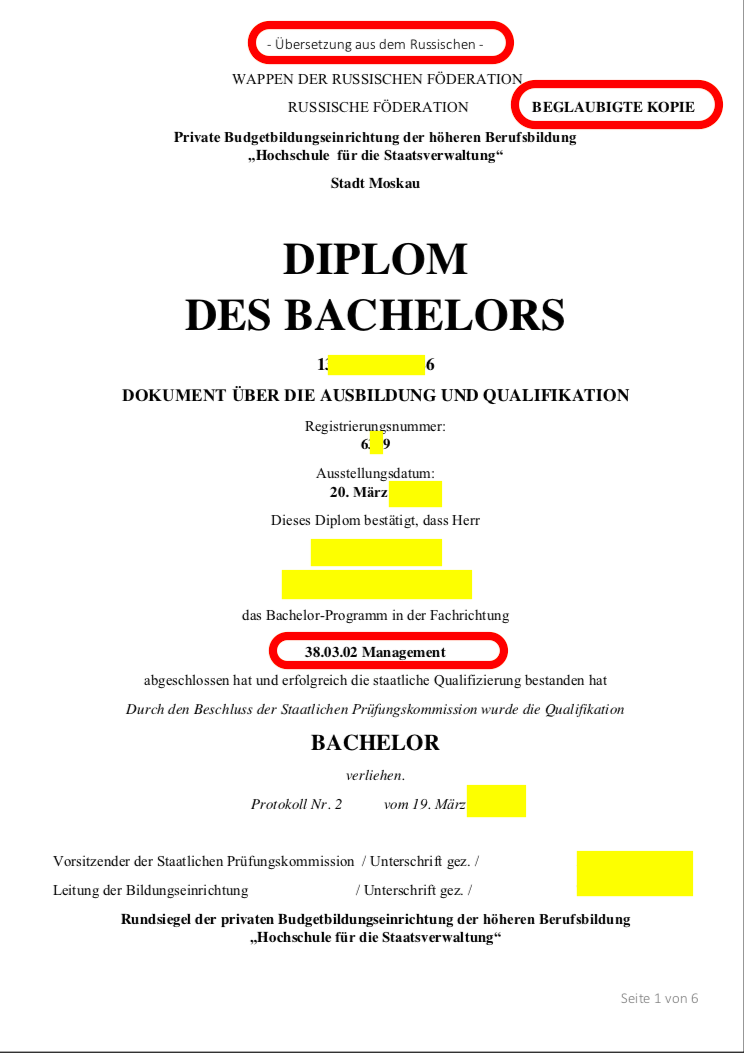 Screenshot 2.3 - sworn translation of Russian degree (Source: Blue Card Agency)
First, fill in box (5) - Name of Qualification (Abschlussbezeichnung) - specify your education. Enter what is written in your diploma (s. screenshots 2.3 and 3).
Hint: If you have so called Doppeldiplom (double diploma), please enter all the degrees indicated in it.
Now we are going to fill in this section using the Anabin database.
Screenshot 2.4. (former 0451) (Source: Anabin)
Go to anabin.kmk.org/anabin, select Hochschulabschlüsse (in the menu on the left), then Suchen nach Hochschulabschlüssen (tab in the middle, s. screenshot 0451).
On the next page, click on Länderauswahl and choose Russia as an example. Let's continue with our example - case of Mr. R, and choose bakalavr. Then you choose your field of study (google translation study, original term Studienrichtung). In our example the field of study is menedzment* (s. screenshot 0509).
Screenshot 2.5 (former 0509) (Source: www.anabin.kmk.org)
Important:
a) While translating documents into German, the translator sometimes makes transliteration of your qualification or field of study according to one of the generally accepted German standards. So don't be surprized if the translator writes your qualification in unexpected way.
b) the same can happen with your first name and last name - the translator can convert your name according to one of the generally accepted German standards for the names conversion.
This dfferent transliteration can causetroubles while recognition of your degree in ZAB and issuing the visa in the consulate.
How to avoid inadequate transliteration while the document translation?
- Simply send to the translator the scan copy of your passport. And tell to translator that you wish to make transliteration of your qualification and the field of study according to the transliteration done by Anabin**.
Example: your qualification in Russian according to your diploma is "бакалавр" (En. bachelor). Translator would probably translate it into correct German as bachelor (in German we just use the English word "bachelor"). However the transliteration according to Anabin ofter differs from the general transliteration standarts. In this particular case Anabin's transliteration will be menedzer.
Conclusion: When filling in the ZAB form the priority is given to Anabin (in our example inzhener is correct, and Ingenieur is wrong)!.
Let's go on. Please click on the plus sign (on the screenshot 0459 at the bottom) and copy the data from the opened pop-up window (s. screenshot 0518).
Screenshot 2.6 (former 0518). (Source: www.anabin.kmk.org)
Find Beschreibung (Description) and Abschluss (Degree). Copy the classification name: bakalavr.
Now get back to our ZAB form (screenshot 3). In field (5) - Name of Qualification insert the copied qualification (Abschlussbezeichnung).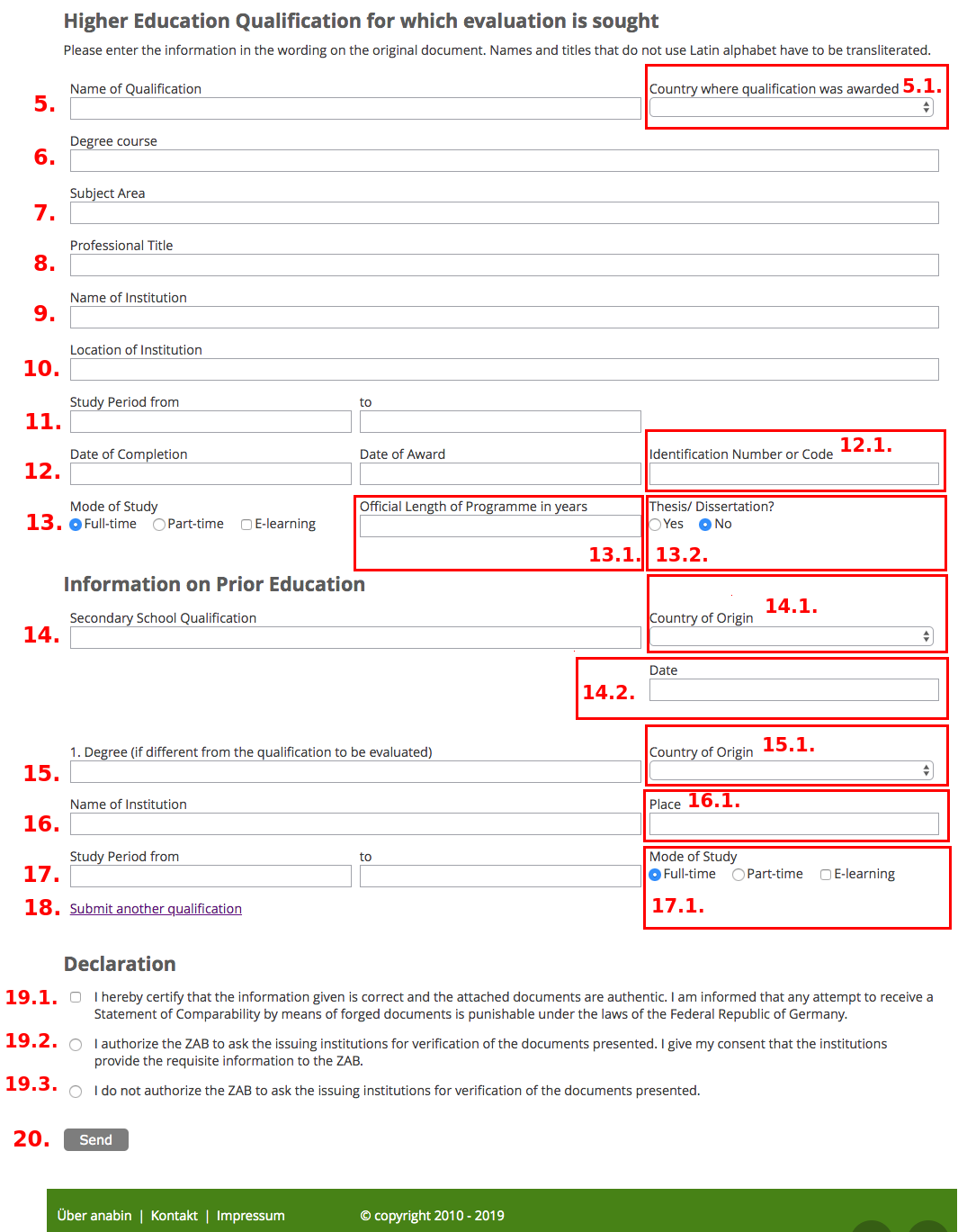 Screenshot 3. (Source: ZAB)
(5.1.) - in our example the country of studies was Russia. So choose Russian Federation.
(6) - Degree course (Studiengang) - here you need to specify your form of study. In our case it is bachelor, but it also can be a master, magistr, specialist etc.
(7) - Subject Area (Spezialisierung) - indicate your field of study here. In German it is also is called Studienrichtung. To determine your field of study, you need to take a look at Anabin pop-up window. Copy what appears in Studienrichtung. In our example, this is menedzment (s. screenshot 0518).
(8) - Professional Title (Berufsbezeichnung) - a profession in which you can work according to your diploma. Let's look at the Anabin pop-up window again. Copy what appears in Abschluss. In our example, it is bakalavr (menedzment) - s. screenshot 0518.
(9) - Name of Institution (Name der Bildungsinstitution) - name of the educational institution. And again, let's go to that same Anabin's pop-up window but... But this time scroll down to Verleihende Institutionen. Click on the name of your institute (s. screenshot 0711)). A new one opens. a pop-up window. From section Kontakt we copy the name of your university ((kmk0720)) and paste in field (9). But... our institution is not on the list!
There is Institut delovogo administrirovanija but OUR Institut gosudarstvennogo administrirovanija is missing on the entire list (s. screenshot 0518).
Before I explain where to find the missing institution, I would like to emphasize that the name of your institution should match the institution on the Anabin list.
In our example there are two very similar sounding institutions:
a) Institut GOSUDARSTVENNOGO administrirovanija and
b) Institut DELOVOGO administrirovanija

Both institutions located in Moscow, both names look pretty similar. However, in the end they are two different educational institutions. By the way, we do the whole process of ZAB-Evaluation because the degree "Bachelor in management" according to Anabin cannot be acquired in Institut GOSUDARSTVENNOGO administrirovanija (a).
So our institution - not to be found on the list of this particular pop-up window. But where?
Information about your university - where to find it
To figure it out go back to the Anabin homepage. This time you don't need Abschlüsse (degrees). Instead, click on Institutionen, then click on tab Suchen (Search).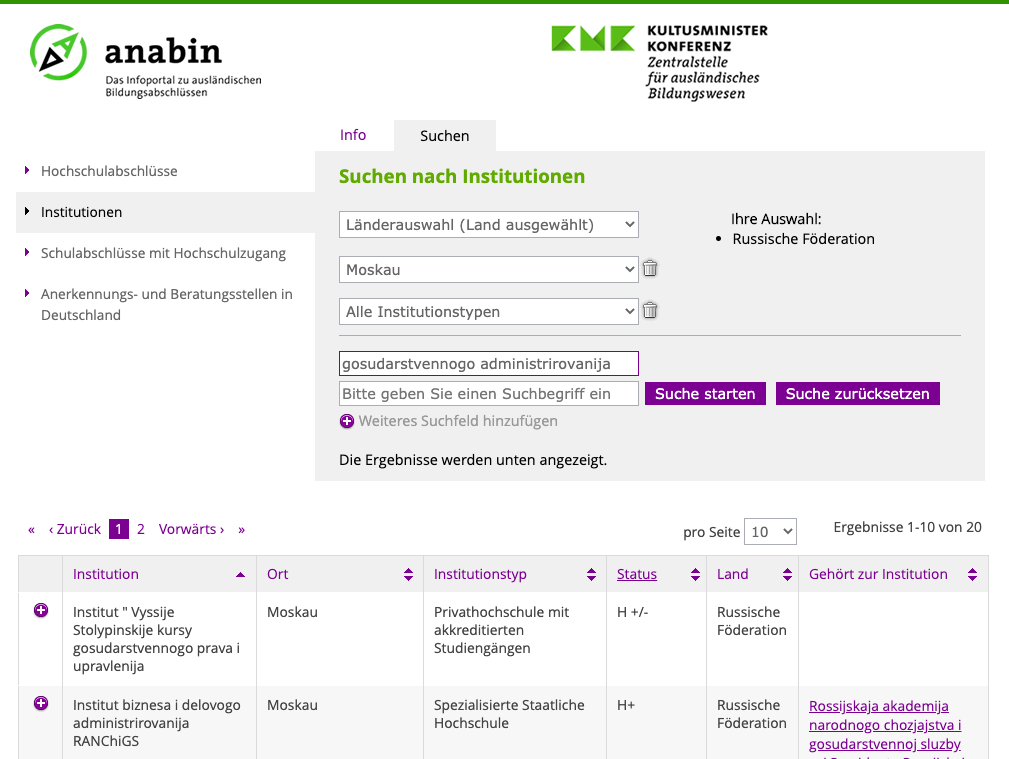 Screenshot 4.1. zab-pop-institution-DE (former 0711). (Source: Anabin))
And now right click on the "Translate to English" (I am using the Chrom browser) and... voila!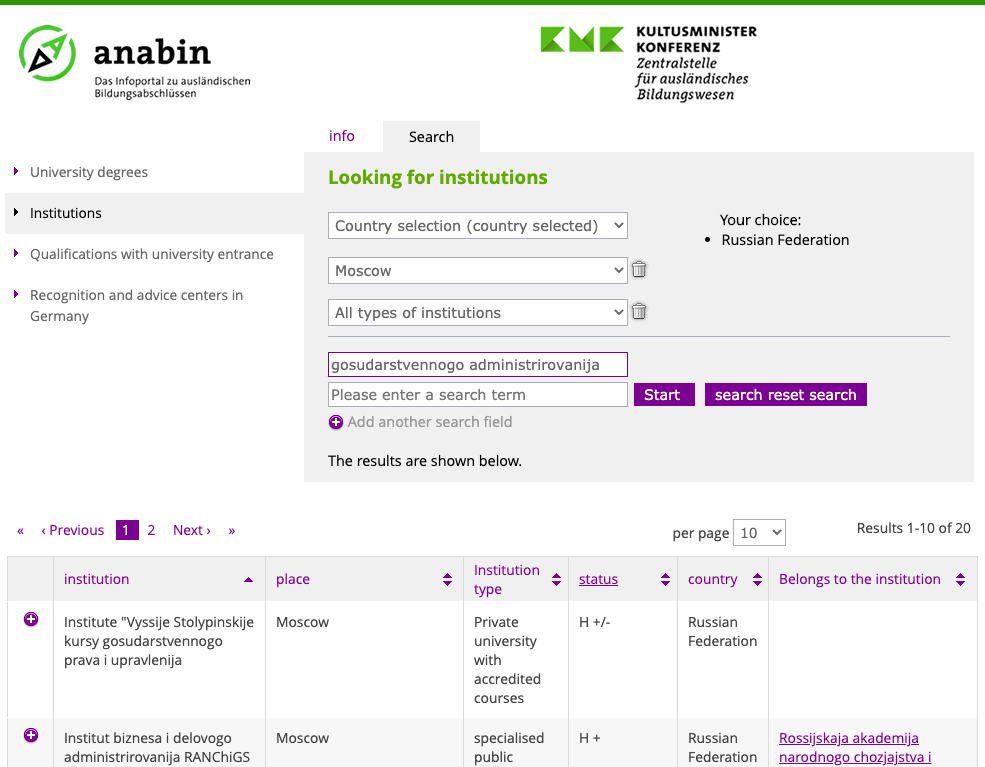 Screenshot 4.2. zab-institution-en. (Source: Anabin))
Look at results and scroll down until our desired Institut gosudarstvennogo administrirovanija is there! (Screenshot 4.3.)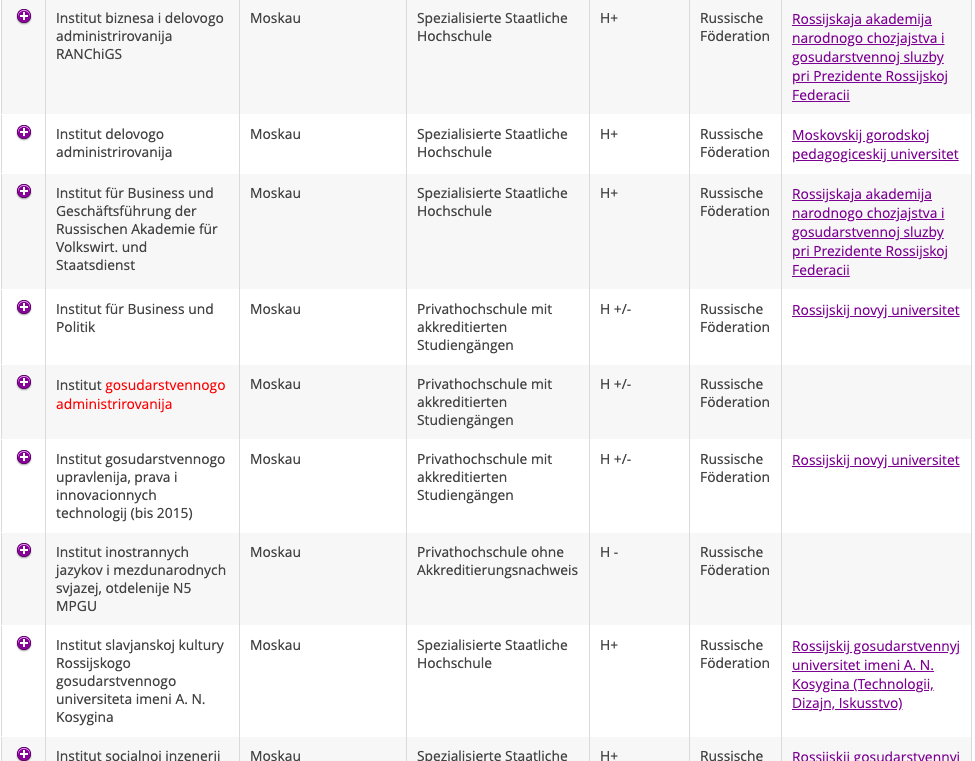 Screenshot 4.3. zab-institutions-list (Source: Anabin))
Now please click on the lila circle with plus sign on the left side. Another pop-up widdow opens (screenshot 4.4.).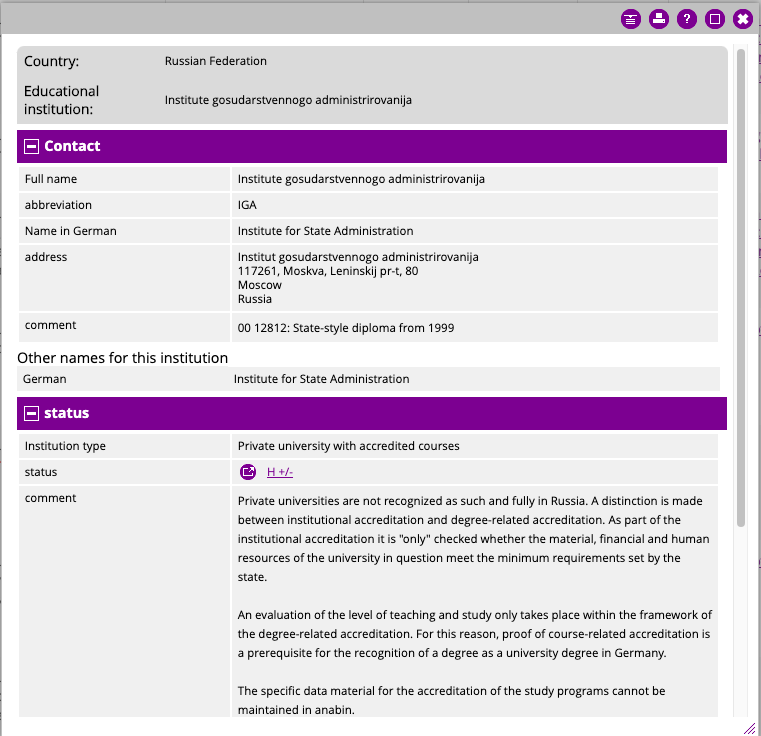 Screenshot 4.4. zab-popup-Insttution-en (Former 0720) (Source: Anabin))
Now have a look at "Contact". Here you will find all required informations. Copy full name and the address of the institution. Paste it into the corresponding fields 9 and 10 (Screenshot 3).
(9) - feel free to paste only original institution name (transliterated).
(10) - enter the full address. The postcode should be included!
(11) - Zeitraum von bis (Study period). Enter here the dates specified in your a diploma.
(12) - Datum des Abschlusses (Date of Completion). Date of Award (Ausstellungsdatum der Urkunde) - the date the diploma was issued.
(12.1) - Nummer der Urkunde(Identification Number or Code) - it's indicated in your a diploma.
(13) - Mind the Mode of Study!
(13.1) - Duration of study of this subject (number of years, indicated in the diploma).
(13.2) - Wurde eine Abschlussarbeit angefertigt? (Thesis/Dissertation) - did you hand in your diploma thesis?
Information on Prior Education (Angaben zur Vorbildung)
Here it refers to your previous education (which was before your master diploma).
(14) - Secondary School Qualification (Sekundärabschluß) – school certificate.
(14.1) and (14.2) - the country that issued the certificate and the date of issuance.
Fields (15) - (18) must be completed only if the subject (specialization) is different from subject of your specialist (master) degree indicated in your diploma.
Declaration (Erklärung)
(19) - Tick the 19.1 and 19.2. Do not tick 19.3!
(20) - Click Send.
After clicking the Send button, your application will be automatically converted into PDF-format. This PDF will open in other tab. Save it, print it, sign it. Then send to ZAB in one envelope together with all other necessary documents.
What happens next? After clicking on "Send" a new window opens with a link to the PDF file of your application form. Click the link. Print and save the PDF file. Doublecheck all fields an sign this printed application form.
Tip: take a screenshot. See example on the screenshot 4.5.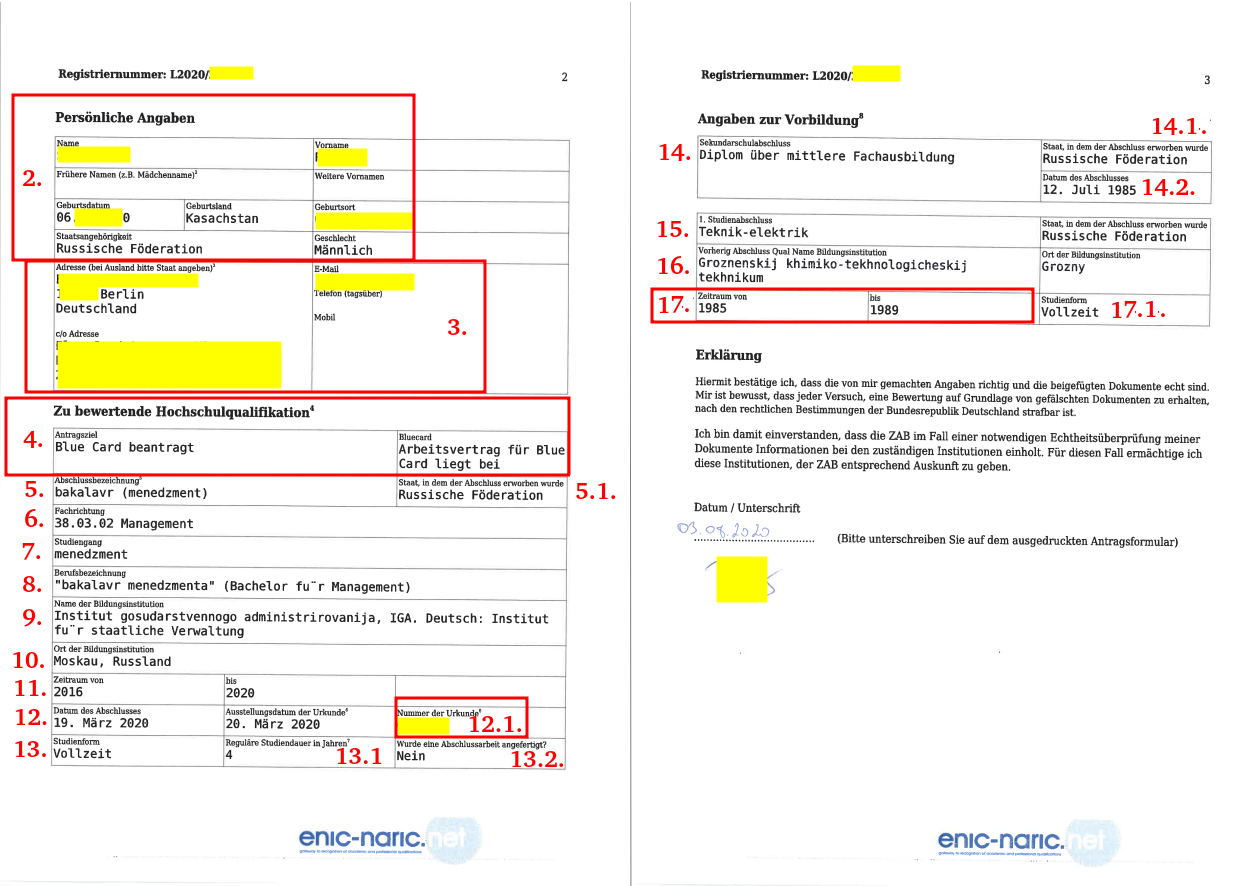 Screenshot 4.5. (Source: Anabin))
For data protection reasons, this converted PDF-file will be deleted as soon as the browser window is closed. If you have not printed or saved the PDF file, fill out a new application form on the same website and click "Send" again.
Step 4 - doublecheck and send the documents
Send the application with required documents (s. step 2) to ZAB office by regular mail, with other words by "paper post". You will find the ZAB postal address on the cover sheet of the application.
Note that the postal process may take a few days. As soon as ZAB has received the fee, the processing time of 3 months (2 weeks for Blue Card applications) will start.
Important! When contacting ZAB, always include the registration number of your application L2020/... on the in the subject line! (s. (23) on the screenshot 5).
Step 5 - get the ZAB confirmation, pay the fee
After receiving your application, you will receive the Gebührenbescheid (payment letter, s. screenshot 5) by e-mail. The processing of your application starts with the reception of the fee.
The certificate evaluation is issued approximately 3 months later. Certificate assessments with the application goal "Blue Card" are usually issued within 2 weeks.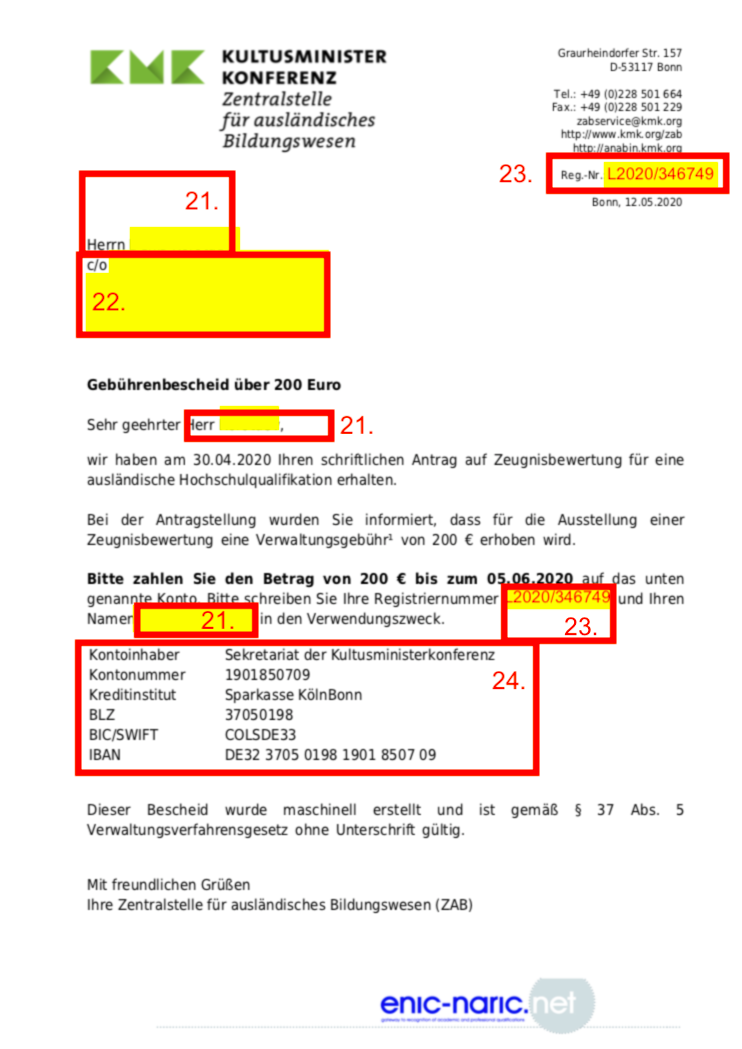 Screenshot 5. ZAB payment letter (Source: Anabin))
Translation:
Notification of fees over 200 Euro

Dear Mr. LAST NAME (21),
we have received your written application for a certificate assessment for a foreign university qualification on 30.04.2020.

When you submitted your application, you were informed that an administrative fee1 of 200 € will be charged for the issuing of a certificate evaluation.

Please pay the amount of 200 € until 05.06.2020 to the account mentioned below (24). Please write your registration number L2020/346749*** (24) and your FIRST and LAST NAME (21) in the payment reference.
Please pay the fee within the specified period (in our example it would be "until 05.06.2020"). The processing of an application starts as soon as the fee is received. A maximum of 3 months later you will receive your certificate evaluation. Certificate assessments with the intention to apply for a "Blue Card" are usually issued within two weeks.
If you have questions or technical problems, you can contact ZAB at zabservice@kmk.org. Remember to include your Registrierungsnummer (registration number) in the subject line.
Document package preparation
Regulations from ZAB:
Do not use files to separate documents.
Remove scrapers and brackets.
Do not staple the documents.
Arrange the documents in the order indicated in this text.
The address of the recipient on the envelope:
Zentralstelle für ausländisches Bildungswesen (ZAB)
im Sekretariat der Kultusministerkonferenz
Graurheindorfer Str. 157
53117 Bonn, Germany

Quality Requirements for Scan Copies
Color or grayscale, DPI 100-300. Acceptable extensions:PDF, JPG or PNG only. The size of each scan shouln't exceed 1.5 Mb;

Caution! Photos of documents are not accepted by German organizations.
Exception: the photo is taken frontally, maximal size is 1.5 Mb, document edges are inside the picture).
* - For example: If you apply for the evaluation of a Master's degree, we also need the Bachelor's degree;
** - ZAB has its own akward transliteraton from Russian. Instead ofmanager or engineer, ZAB writes "menedzer", "inzener".
*** - the particular registration number was changed due to privacy protection reasons).