German National Visa - Application Form Completion Help
For intended Blue card and other reidence titles for employment
The structure of websites of German embassies and consulates in different countries is not the same. Fortunately the search terms are similar.
On the website of the embassy/consulate you should only find out three things at first:

how to book an appointment in the respective embassy/consulate;
the checklist of necessary documents (German: Merkblatt);
the visa application form.
This article is about the visa application form.
You can find this form on the website of the German emabassy/consulate in your country.
Or you can download the form from the German Foreign Office.
The form has English explanations on fields, so I only clarify some places which in my opinion are a bit misleading or could be interpreted in different ways. - Jaroslav Plotnikov
Page 1 of 5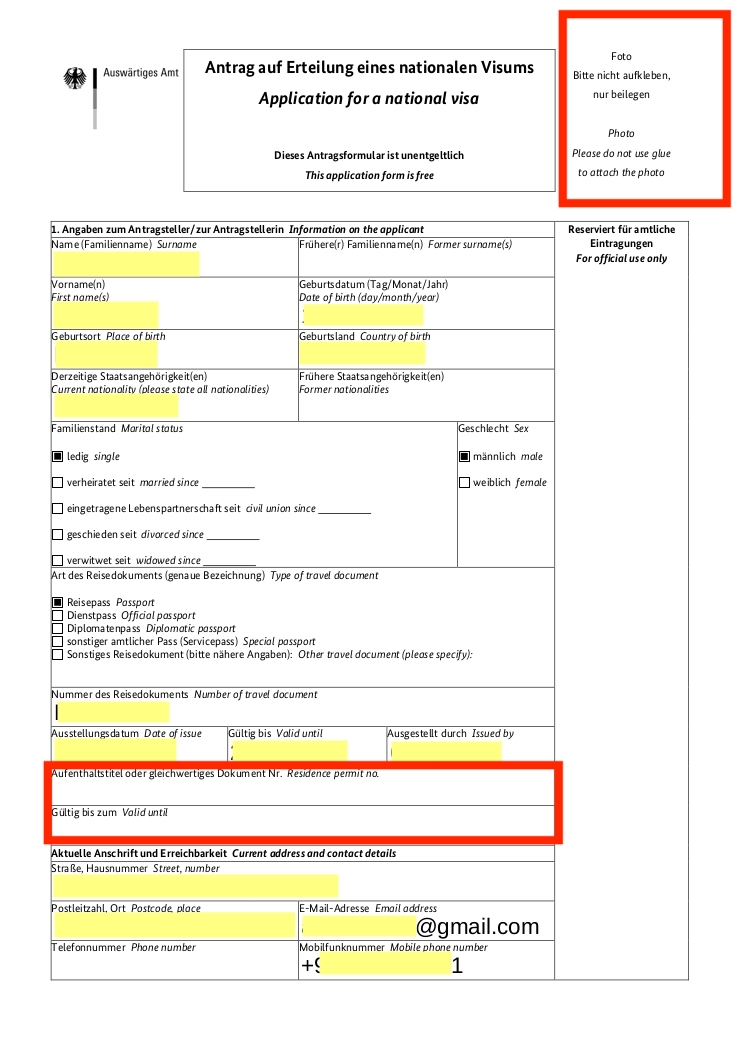 Application Page 1 (Source: Federal Foreign Office)
1. Information on the applicant
Former surname(s):
if you haven't change your name, leave this field blank.
Date of birth:
use exact same format - 14/01/1980 (day/month/year).
Place of birth:
enter the geographic name as entered in your passport. If the city of birth is not entered in your passport, enter the place of birth as entered in one of the translations of your documents with Latin letters (e.g. your birth certificate, marriage certificate, etc.).
Current nationality:
I find the term nationality rather misleading. What is really meant is citizenship.
Remember it for all other fields of this form (e.g. the citizenship of spouse, children, parents).
Type of travel document:
In 99% of the cases you have a passport (the first checkbox).
Residence permit no.:
If you have a visa (e.g. so-called Schengen visa or a residence permit of Germany or another country of Shengen agreement), please enter its number and the period of validity here. If you don't, leave these fields blank.
Current address and contactdetails
Everytime you have to enter your address, it is best to enter your registration address. If this is difficult (because of some reason), enter at least the address that is written on any of your documents.
The fact that the registered address is somewhere on your papers makes your application more coherent and credible. This increases the chances of a faster processing by the authorities.
Postcode, place:
Here it is important to enter the postcode (zip-code).
Note: in Germany the postcode (PLZ) is so important that in most online forms it is a mandatory field. Therefore always enter the postcode.
Phone number / (mobile) phone number:
Regardless if you provide the mobile or landline phone number, notice following:

a) think twice before choosing a particular number. Ask yourself, if you always have access to that number? If this number would be blocked for some reason, do you have enough rights to request access to it?
b) make it a habit to enter your numbers always in international format, i.e. with plus and international country code. It is quite possible that you will not be called by the embassy but by the appropriate immigration authority from Germany. If your number in the application was entered in international format, you could be easily reached and the issue would be clarified quickly. This alone can save you weeks of waiting!
Page 2 of 5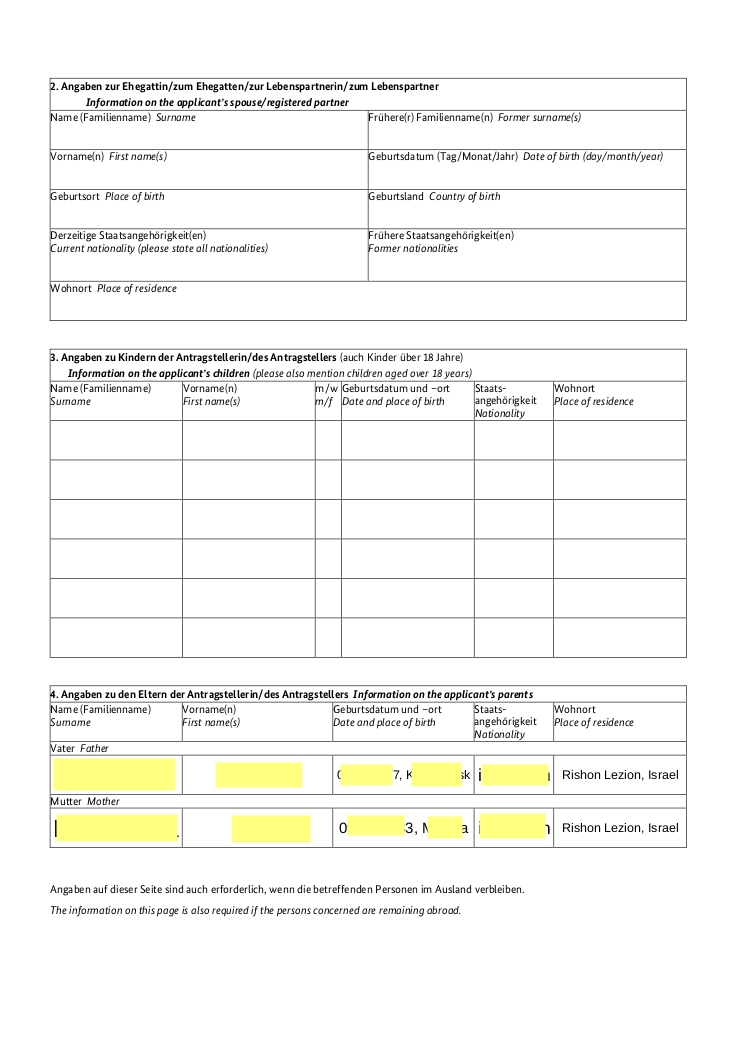 Application Page 2 (Source: Federal Foreign Office)
The information on the applicant's spouse / registered partner also required if the persons concerned are remaining abroad.
2. Information on the applicant's spouse/ registered partner*
If you are not married leave this section empty. Remember you have already stated your martial status as single (s. page 1).
3. Information on the applicant's children
If you have no childen, write here "no children" (or German "keine Kinder" if you wish).
The clear "no children / keine Kinder" statement would probably please the German clerk, because Germans don't like to guess - does the visa applicant really have no children or did he just left this section empty by chance.
Nationality:
Nationality is to be understood as citizenship (s. page 1).
Place of residence:
enter the name of the city after each child.
4. Information on the applicant's parents
If (one of the) parents passed away, enter in Place of residence box following: "passed away" or German "verstorben".
Page 3 of 5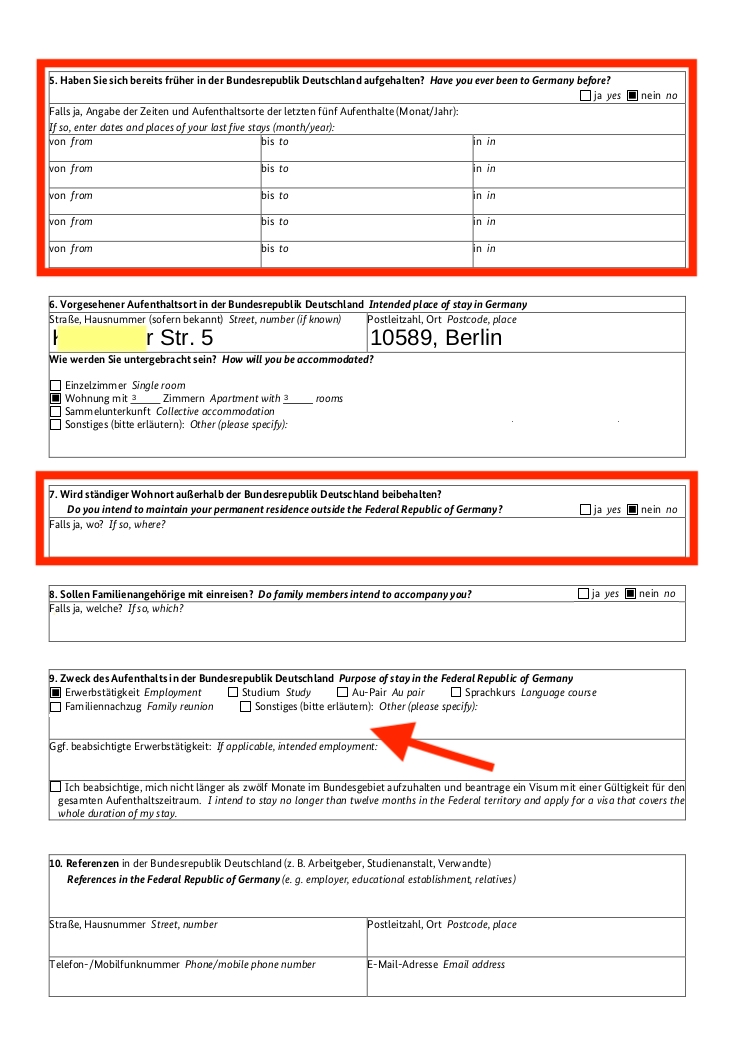 Application Page 3 (Source: Federal Foreign Office)
5. Have you ever been to Germany before?
It is important that you always accurately repeat this information when filling out similar forms in the future. This ensures that your future applications will always appear credible and as a result they will be processed quickly.

Tip: save this completed application as a PDF or as an image on your smartphone. In the future every time you have to fill in an application (and in Germany you will have to do it several times) use the saved data. Do not rely too much on your memory. Keeping all data in your head is stressful. Some incorrect entries may slow down the future processing of your application or even lead to a rejection. Therefore use this application - it will save you a lot of time and effort.
If you do not have a place to stay in Germany, tick the checkbox Sonstiges (bitte erläutern): Other (please specify): and write the name and address of your booked accommodation.
My recommendation is to make a free non-binding reservation. Be prepared that you also have to print out the booking confirmation and eventually hand it in at the embassy later.
Tip
: answer this question with YES. Write here the address of your parents or grandparents or relatives. The reason for the YES answer: if you intend
to send money from Germany to your relatives, it will be easier
to deduct this money from taxes if you have a clear connection to your home country.
8. Do family members intend to accompany you? If so, which?
If your family* does not enter the country immediately, tick the box NO here. You can also bring them into the country later. As long as you are Blue Card Holder is rather easy.
9. Purpose of stay in the Federal Republic of Germany
Make appropriate entry - e.g. for Blue Card or self-employment tick Erwerbstätigkeit Employment. If your spouse (and/or children) are travelling with you, each of them should tick Familiennachzug Family reunion in his/her visa application form.
If applicable, intended employment:
Write here your employment as in the employment contract or job description, but without details. E.g. Junior Frontend Developer.
10. References in the Federal Republic of Germany (e.g. employer... )
If you are coming to work, ask your German employer for the contact details. You have probably have this information either in Job Description or in Annexure for employment visa. Your employer should be prepared for a possible call from the embassy or Ausländerbehörde***.
Page 4 of 5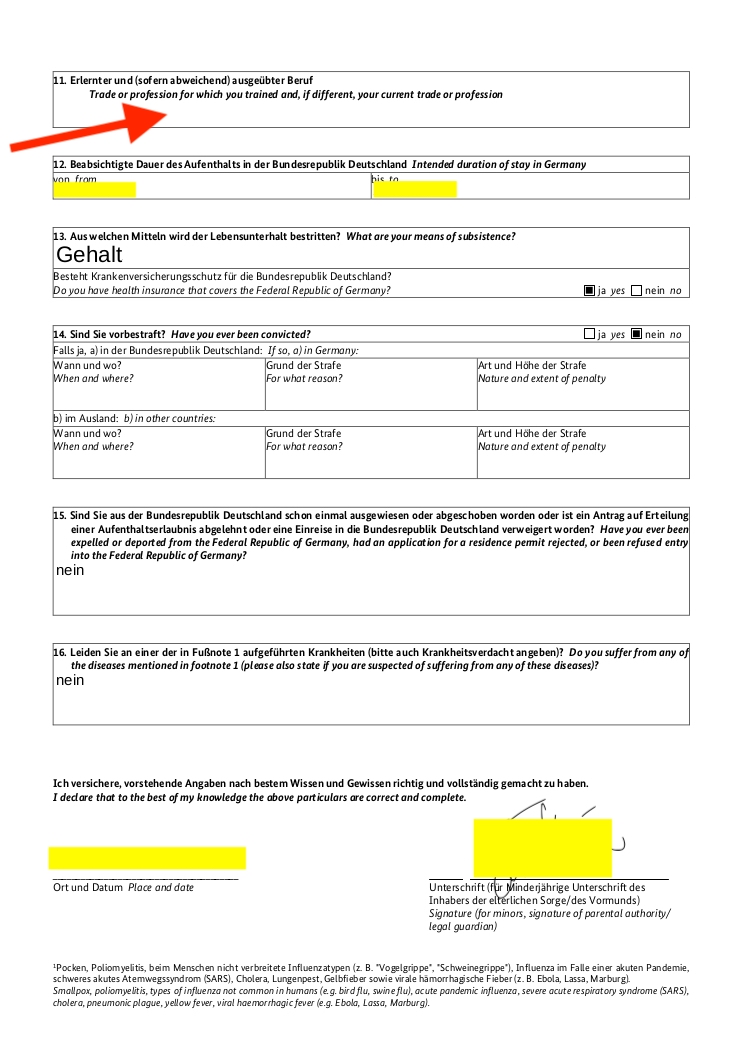 Application Page 4 (Source: Federal Foreign Office)
11. Trade or profession for which you trained and, if different...
If you work in the profession you studied, leave this field empty.
12. Intended duration of stay in Germany
I recommend to come to Germany earlier than it is specified in the employment contract.
Example
: if the start of work is scheduled for the 1st of June, you can (and should) ask for the entry permit from the 15th of May (or even from the 1st of May if your spouse and kid(s) accompany you.
If the embassy officer has any questions about this, answer him honestly that there are the following reasons for coming earlier:

Acclimatisation, search for long-term tenancy apartments, registration, opening of the bank account(s), search and formalities around the landline phone and internet providers, evtually German language course etc.
Flight ticket price. Prices can vary greatly (which is especially important if you book plane tickets for your family). So it is a very convincing argument. Earlier entry gives you more flexibility in your search for the cheaper airline tickets.
This argument works best when your family has 2 or more children. Officers are human beings too. If one has children one can understand this argument very well.

Search of kindergarten or school (if children come with you).
In case of entry with the spouse and kid(s) I would even recommend to apply for the entry permit one month before the job contract starts. The search for accommodation can also take a longer time as assumed.

If these listed formalities are completed very quickly, you can always ask your employer to put the starting date in the contract to earlier date.

If the employer cannot hire you earlier than planned, you can offer to work for one week without payment.
In most cases, such a gesture will make a very positive impression on employer. And odds are high that it will speak in your favour in future salary negotiations.
What happens if your wish will be rejected and you will not be allowed to come earlier as stated in your contract?
You asked if an earlier entry is possible. You also gave good logical reasons. And still you wasn't allowed for an earlier entry. Don't worry about it. Nothing bad happened - you can also come to the beginning of the contract.
13. What are your means of subsistence?
The entry of Gehalt / Salary is sufficient.
Do you have health insurance that covers the Federal Republic of Germany?
Set YES because in Germany there is a health insurance obligation (!). As soon as you officially start working, most likely you will get a statutory health insurance. But before to start working, you (and your family members if they are travelling with you) must cover the time between entry in Germany (or even crossing the boarder of European Union) and the actual start of your work. So to cover this time span you a private health insurance, so-called travel health insurance or simply Travel insurance (Reiseversicherung)***. Even if it is only for one day.
I hope the rest of the form is clear. If there are still unclarities, please write in comments below or email me directly. Sections 14, 15 and 16 are pretty self explained.
Page 5 of 5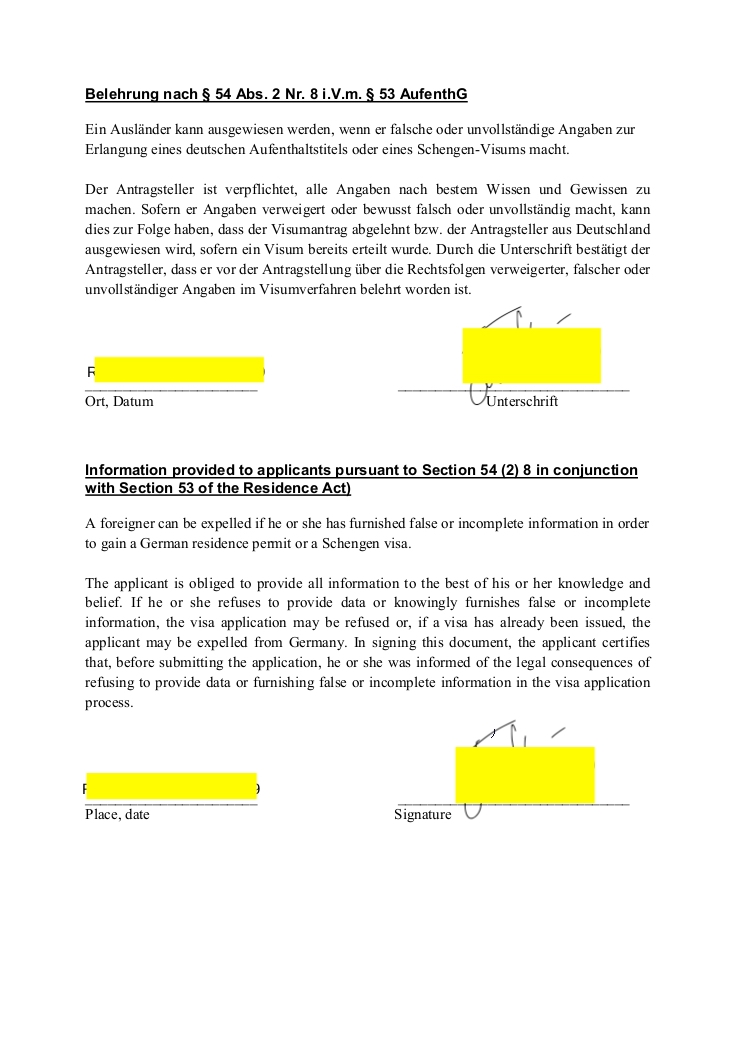 Application Page 5 (Source: Federal Foreign Office)
Belehrung nach § 54Abs. 2 Nr. 8i.V.m.§ 53 AufenthG
(Information provided to applicants pursuant to Section 54(2)8 in conjunction with Section 53 of the Residence Act)
What this sheet is about is obvious, because there is also the English text. So without further ado just insert the city where the embassy is, set the submission date and sign it (once enough). Done!
* - in Germany it is a common practice when a couple live in one place without being married. In some cases, your girlfriend / boyfriend can be registered as your
life partner
.
** - the legal term
family
includes in Germany your spouse and your natural or adopted minor children (until the age of 18). No siblings, no parents.
*** - translations and explanations see in
GLOSSARY
.
Travel insurance for the getting of national visa for work in Germany
Go UP
---
12.04.20 ©️ Jaroslav Plotnikov ( All articles )
Copy & share:
migwork.com/blog/form-visa