Compulsory insurance (gesetzliche Versicherung) - Completion Help
Compulsory health insurance is a must if you stay long in Germany ("TK" as example)
- Why I have choosen a Techniker Krankenkasse (TK) as example?
- Mainly because it is getting more and more popular. Besides they speak English.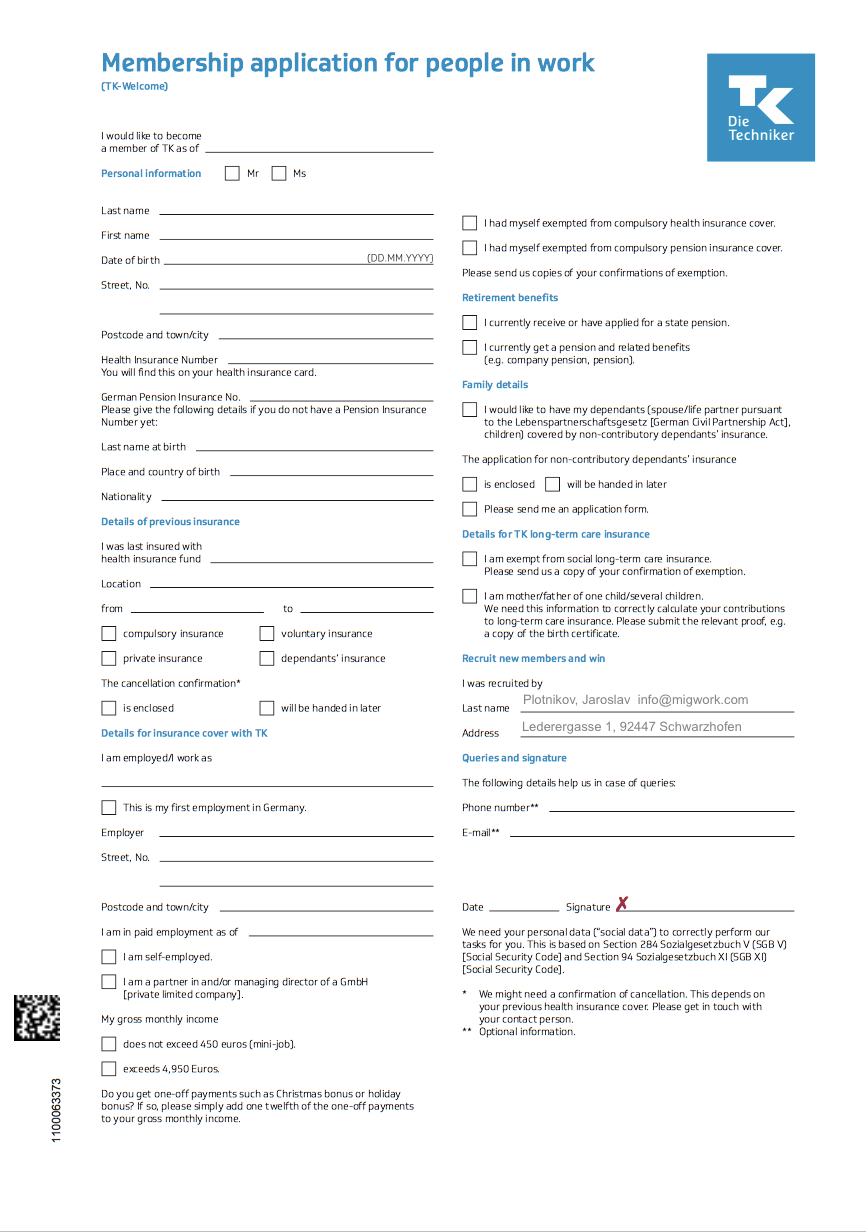 Screenshot 1. (Source: tk.de)
For national visa you may have already filled out private
travel insurance
. The statutory health insurance is even easier to fill out.
This form you can fill in English. It's pretty self-explanatory, so I only clarify some places which in my opinion are a bit misleading or could be interpreted in different ways. - Jaroslav Plotnikov
Step 1: download the form here.
Step 2: complete the form below.
Completion Help
I would like to become a member of TK as of
Enter the date of first work day (DD.MM.YYYY) according to your employment contract.
Step 2.1: Personal Information
Street, No. ... Postcode and town/city
Enter the address according to your registration confirmation (Anmeldebescheinigung, also called Anmeldebestätigung). Remember that postcode is important in Germany;
Health Insurance Number
You will find this number on the confirmation letter of your travel health insurance.
German Pension Insurance No.
this number can be entered later.
Last name at birth
Only if this name (in addition to your first and last name) is entered in your passport.
Nationality
Enter your Citizenship (not nationality!).
Details of previous insurance
I was last insured with ... Location
Enter the name of your insurance company from your home country (s. example below).
As Location the country name is sufficient. If it was a federal insurance company, tick the compulsory insurance checkbox. If not, tick the private insurance checkpox.
Example: UnitedHealth, Location: India.

Never insured before?
In this case write that your very first insurance was your travel insurance with which you arrived in Germany.

The cancellation confirmation
If you do not have a cancellation confirmation from your previous insurance company or have never been insured before, leave these boxes empty. If necessary, TK will contact you.
Step 2.2: Details for insurance cover with TK
I am employed/I work as
Write your job title here exactly as in your employment contract.
This is my first employment in Germany
If this is your first employment in Germany, enter the employer data as given in the Stellenbeschreibung (Job Description) eingegeben sind.
My gross monthly income
What is the amount stated in the employment contract? If there is annual salary, divide it by 12 to get the sum of the monthly salary. If both boxes do not apply, leave this one empty.
I had myself exempted from...
As an international professional, ignore these two checkboxes.
Retirement benefits
As an international professional, ignore this section.
Step 2.3: Family details
Note that many statutory insurance companies offer a so-called family tariff. It means that you can also insure your family (i.e. your wife and children).
I would like to have my dependants (spouse/life partner ... )
This is a great option. I just mentioned it couple of above. Your dependants (spouse and children) can be included without paying any additional fees.
An interesting option is the
life partner
-
the insured person might not be a wife/husband but only your
girlfriend/boyfriend
.
The application for non-contributory dependants' insurance
So if you want to include your dependants or your life partner(s) in the insurance, check this box.
Details for TK long-term care insurance
Long-term care insurance
(
gesetzliche Pflegeversicherung
)
is mandatory
because it is prescribed by German law.
As long as you do not know for sure that you are exempt from long-term care insurance, leave the first box empty.

Recruit new members and win
Entering my name (Jaroslav Plotnikov) is of course optional. However, I would be very pleased :)
Step 2.4: Queries and signature
Phone number ... Email
I would advise against entering a call number.
Communication via phone has no advantages for you. It benefits only them because it speeds up their workflow and save them time.
Date ... Signature
Electronic signature is completely sufficient. Alternatively: fill out the document, print it out, sign it, scan it and email it to the TK (for example to Suchopar@tk.de or to service@tk.de).
Step 2.5: send it via email or paper post to the particular insurance company.
What comes next
After you have sent the completed and signed application (a PDF sent by email is sufficient) wait for a couple of days. You will usually receive a response within three working days, but also sooner, sometimes on the same day.
You will receive a membership confirmation or a message about which documents are still missing. Submit them.
As soon as you have received a membership confirmation, inform your employer. However, this is not absolutely necessary as your employer will also be notified directly by the health insurance company.
Step 3: Your health insurance membership card will be sent to you by post. Sign this plastic card and always take it with you to the doctor.
Step 4: when relocating, remember to inform your health insurance company on time. You can also do this in advance, as soon as both parties sign the new rental agreement. That's it.