IT-Work in Germany: Tax Class Change Form (Antrag auf Steuerklassenwechsel) – Completion Help
How to change your tax class if you got married or your spouse came to Germany as family reunion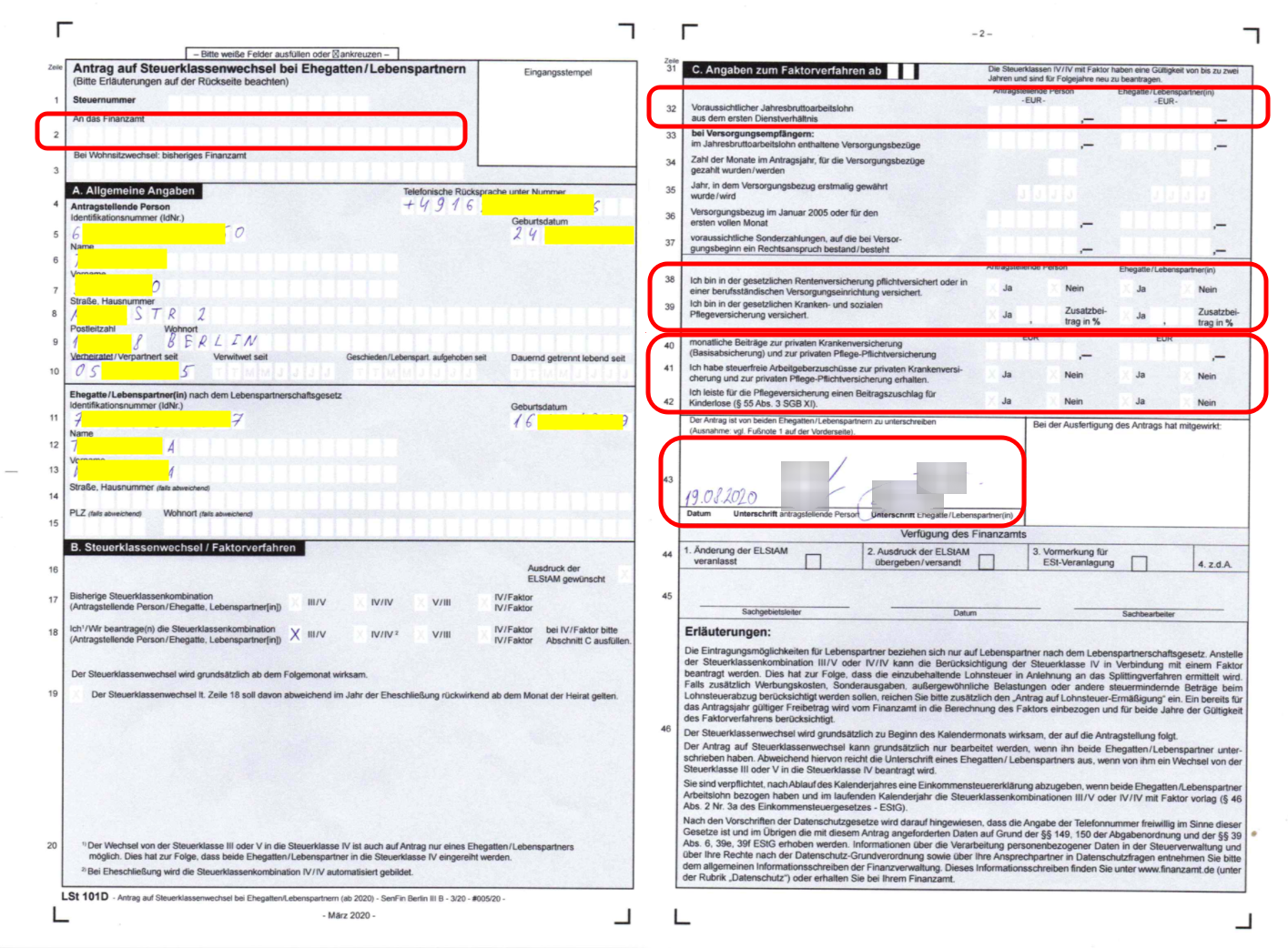 Download the form Antrag auf Steuerklassenwechsel bei Ehegatten / Lebenspartnern from the federal page of your Bundesland (federal state)*.
A. Allgemeine Angaben (A. General details)
Antragstellende Person (Applicant person)
1: Your tax number (if available);
2: Give the Finanzamt (tax office) assigned to your district.
3: In case of change of residence: previous tax office
4: Telefonische Nummer für Rücksprachen - here you can leave your German phone number for eventual consultations. However I am against of the phone communication with authorities and organisations. Use the email instead.
5: Identifikationsnummer (also called Steuer-ID or Idnr or Steueridentifikationsnummer) - and of your spouse/life partner (B). You will find it in every letter from Finanzamt (in the upper right corner).
6-9: enter your full name (according to passport), birth date and address - the street, the house number, the PLZ (postal code).
Remember that in Germany the PLZ must always be entered!
10: fill the corresponding field:
Verheiratet/Lebensp. begründet seit (Married / civil partnership since)
- Verwitwet seit (widowed since / civil partnership ended since)
- Geschieden / Lebensp. aufgehoben seit (Divorced / civil partnership ended since)
- Dauernd getrennt lebend seit (permanently separated since)
Ehefrau/Lebenspartner(in) (Wife/Life partner)
11: enter the Identifikationsnummer of spouse / life partner.
You will find it in every from Finanzamt (in the upper right corner).
12: Name: Last name;
13: Vorname: First name;
14: Street, house number (if different)
15: PLZ: postal code, Wohnort (falls abweichend): place of residence (if different).
B - Steuerklassenwechsel (tax class change)
Tip: Clarify your information for fields 16 - 19 with your tax advisor.
16: live this checkbox empty unless your tax advisor needs the copy ELStAM statement.
17: Previous tax class combination (applicant person/spouse, life partner).
If you recently arrived to Germany, leave it blank.
18: Ich/Wir beantrage(n) die Steuerklassenkombination: I/We apply for the tax class combination
C. Information on the factor method from
32: Estimated annual gross salary from the first employment: if nothing else, enter here the sum of your gross wages from your employment contract.
31, 33-37: Leave these fields blank. Ask your tax consultant, what data to enter in your particular situation.
38-42: Ask your Employer to about this questions..
43: Date. Signatures: yours and your spouse's / Life partner's..
44-45: These fields will be filled by official.
* - this and more terms, translated and abbreviations explained s. the
GLOSSARY
.
Tax refund - how to get a (significant) part of paid taxes back
Go UP
---
24.08.20 ©️ Jaroslav Plotnikov ( All articles )