Wohnungsgeberbestätigung – Landlord's confirmation for subtenants – Completion Help
There's nothing complicated here, but to be sure that you fill in everything correctly, let's take a step-by-step approach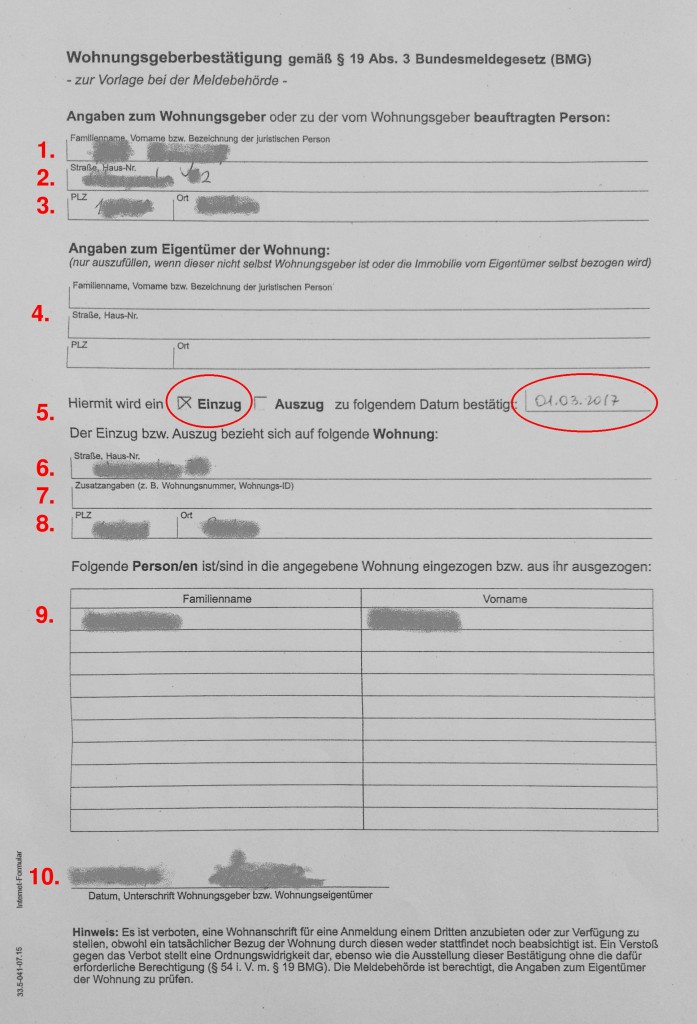 Picture 1. (Source: Berlin.de)
Download this form (Wohnungsgeberbestätigung).
1-3: Angaben zum Wohnungsgeber oder zum Wohnungsgeber beauftragten Person. Write here the name of your Hauptmieter (main tenant, fig. 1) and his address – the street, the house number, the PLZ (postal code), and the city (3) of course. PLZ must always be entered (fig. 2)!
4: Angaben zum Eigentümer der Wohnung (Information about the owner of the apartment). Leave this field blank.
5: Tick the box Einzug. Enter the date of the intended move-in.
6-8: Fields 6, 8: correspond to fields 2, 3 Zusatzangaben (extra additional information, fig. 7) is rare. And if there is some, your main tenant will know.
9: Folgende Person/en ist/sind… Enter your name here. Attention! First the last name, then the first name.
10: The date on which this form was filled in and the signature of the main tenant.
Warning!
Es ist verboten, eine Wohnungsanschrift für eine Anmeldung anzubieten oder zur Verfügung zu stellen, wenn ein tatsächlicher Bezug der Wohnung weder stattfindet noch beabsichtigt ist. Ein Verstoß gegen dieses Verbot stellt eine Ordnungswidrigkeit dar und kann mit einer Geldbuße bis zu 50000 Euro geahndet werden. Das Unterlassen einer Bestätigung des Einoder Auszugs sowie die falsche oder nicht rechtzeitige Bestätigung des Ein- oder Auszugs können als Ordnungswidrigkeiten mit Geldbußen bis zu 1000 Euro geahndet werden.
Translation:
It is forbidden to offer or make available an apartment address for registration if an actual move-in of the apartment does not take place or is not intended. Violation of this prohibition constitutes an administrative offence and may result in fines of up to EUR 50000. Failure to confirm the move-in or move-out as well as incorrect or untimely confirmation of the move-in or move-out may result in administrative offences with fines of up to 1000 euros.
How to hire German sworn translator over Internet
Go UP
---
19.03.20 ©️ Jaroslav Plotnikov ( All articles )
Copy & share:
migwork.com/blog/form-landlord19