3 Ways to Find Sworn Translators in Germany & Translate Documents Online
100% safe legal way that translation of your documents will be accepted by ANY German authority
In previous article you'll find the Basic Information about 3 ways to translate your documents via Internet.
Way #1 - BDÜ website
BDÜ – the professional association of interpreters and translators in Germany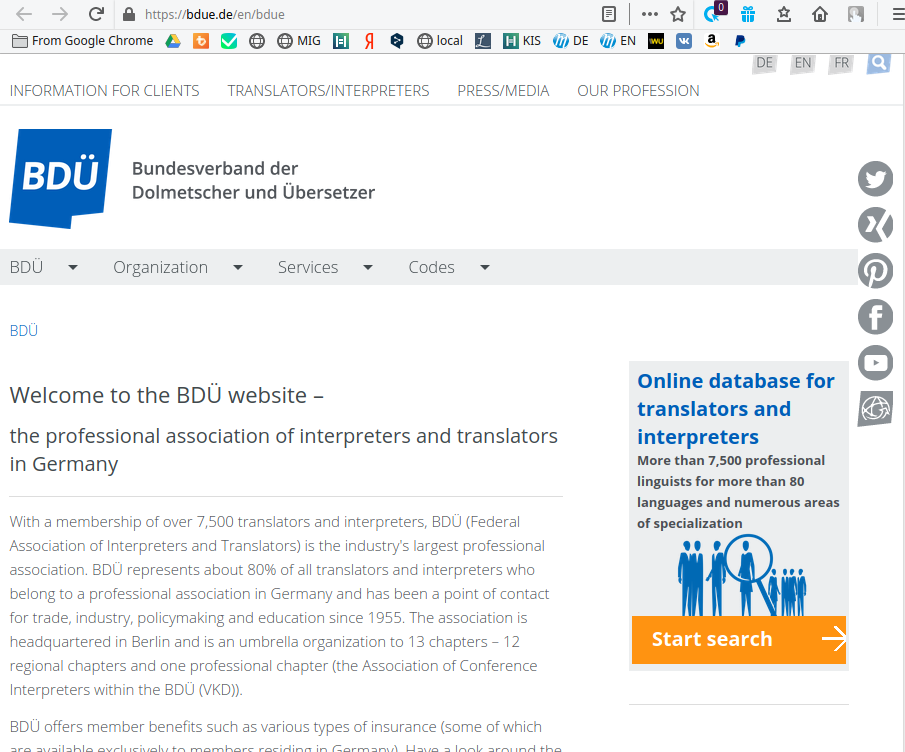 Step 1: go to bdue.de and click the button START SEARCH. (Screenshot 1.1)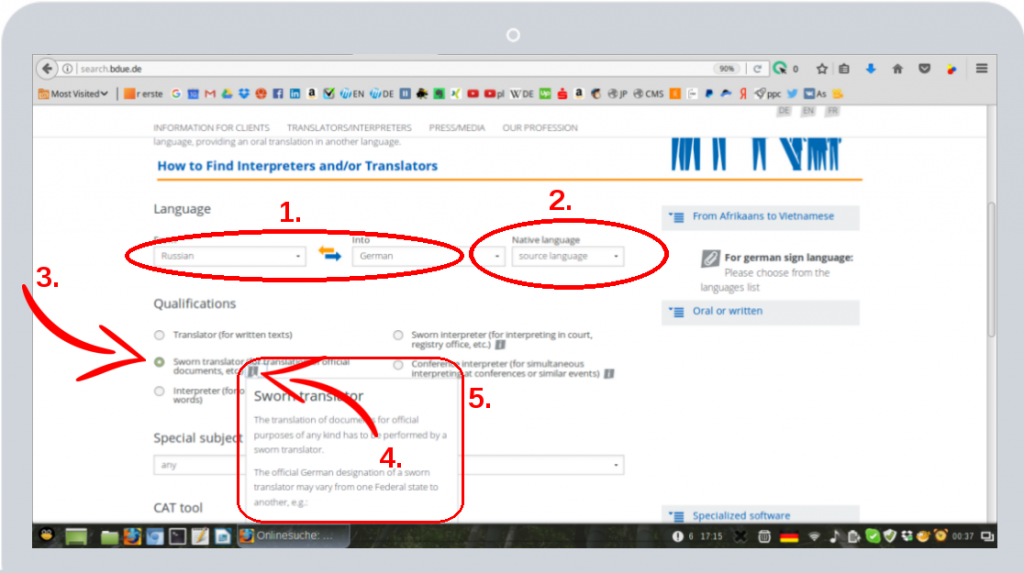 .
1: here you decide on the translation language (in my case from Russian into German)
2: here you can determine whether the particilar language (e.g. German) is the native language of the translator. This field is optional.
3: select "Vereidigter Übersetzer" ("Sworn translator").
4: here you can find an explanation of the term "sworn translator".
5: here you can be shown translators who specialise in a particular field (e.g. law or medicine). This field is also optional.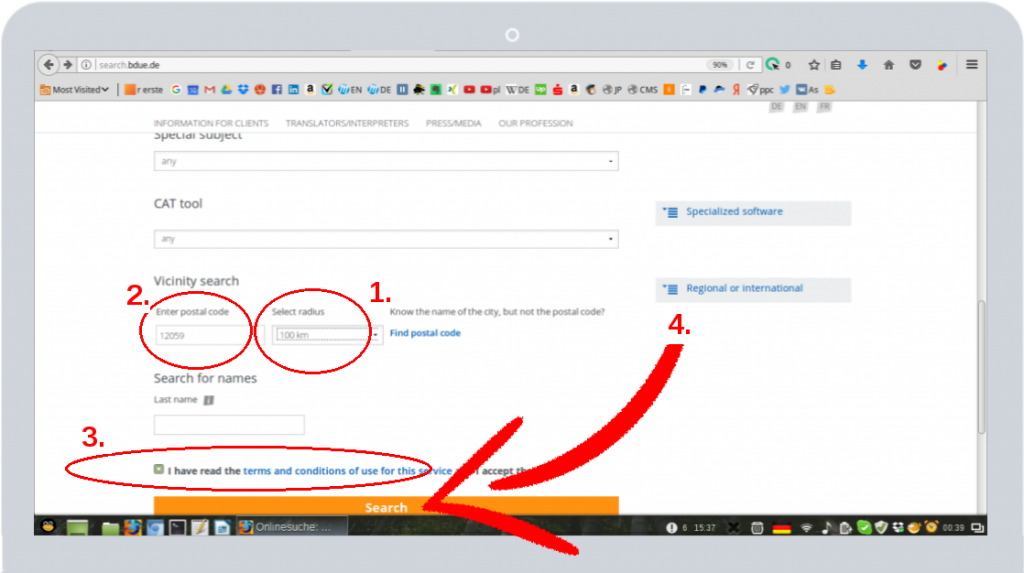 Vicinity Search
Here you determine the geographical location of the translator in Germany.
1: click on Find postal code OR: enter in Google maps any address: city, street, number (example: Berlin, Harzer Str. 1). Google will immediately show the full address including the postal code.
2: Already have a postal code (PLZ)? Just enter it.
3: Tick the checkbox and click on SEARCH
Step 2: get the list of Translators (Screenshot 1.4)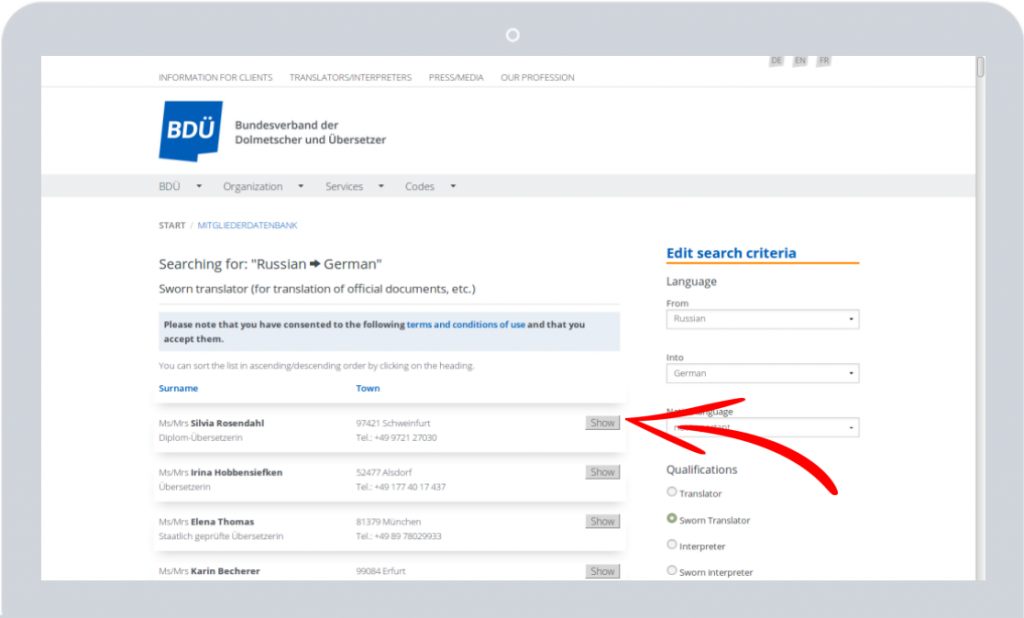 .
Step 3: get the details of every search result (Screenshot 1.5)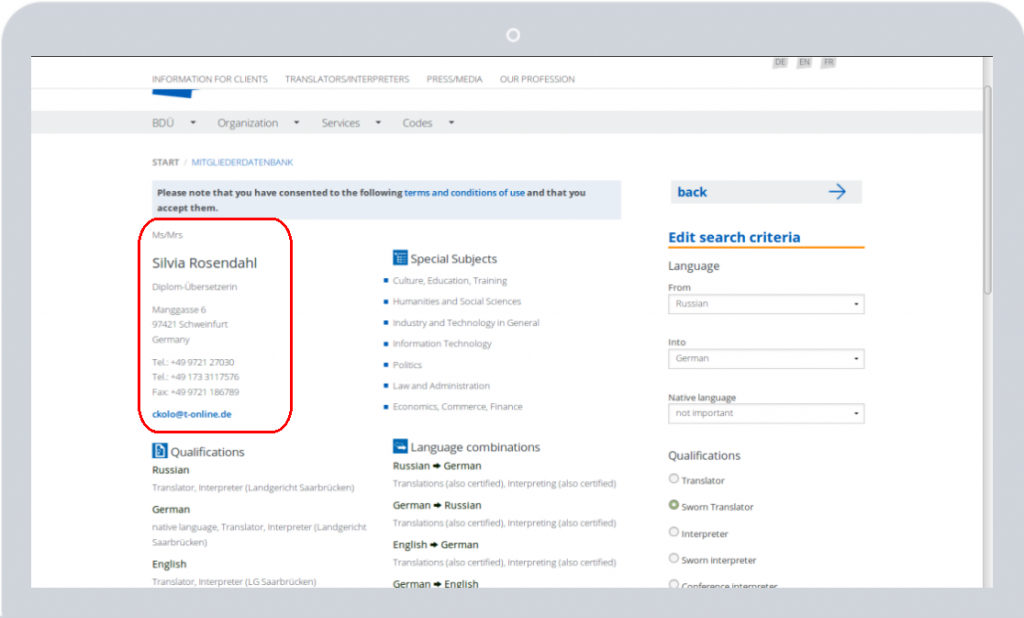 Step 4: choose amomg those translators, who sent the cheapest offer. That's it!
Note! All translators have absolutely equal authority to translate documents.
Way #2 - Justiz Dolmetscher website
Justiz Dolmetscher – database of translators and interpreters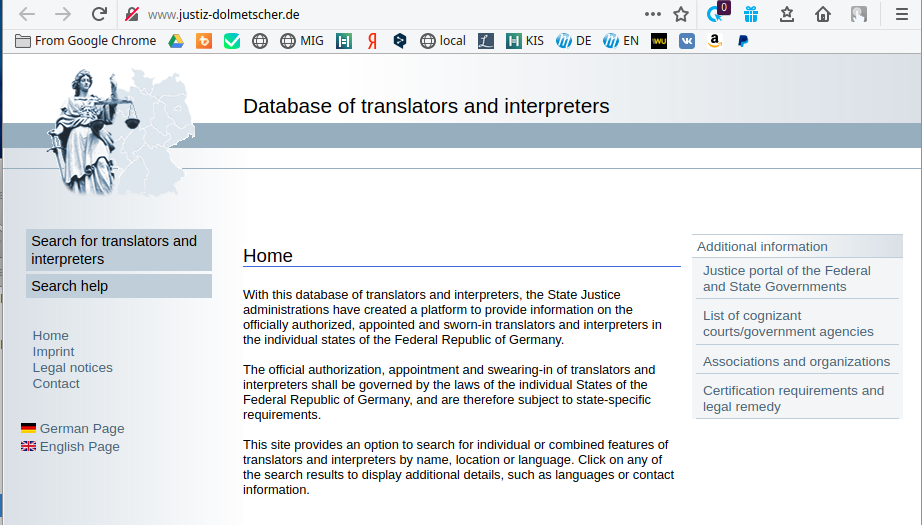 .
Option A:
Ask your university to hand over your degree in English
Remember that German embassies/consulates also want to see the diploma attachment (also called supplement) with the list of subjects and grades. So ask your university to issue the diploma + supplement (you will get more than 2 pages for both documents);
Hire a German sworn translator* to translate your documents. Thanks Internet you can easily find dozens of sworn translators in Germany. Most of them have no problem translating documents without holding the original in their hands. Some translators (but not all) mark the finished translation as "translated from the copy". Translations done by sworn translator must be accepted by every German authority.
This weak point of option 2: even if the German embassy accepts the translation made in your country and certified by a notary, it is always possible that in the future some authority will not be satisfied with such a translation from your country. In this case you will have to translate the document(s) again in Germany.
My recommendation is: always have your documents translated by a sworn translator in Germany.
* - Sworn means that translator has taken the oath of allegiance to the German state. Therefore his/her translation does not need any further notarial verification. You can find sworn translators in particular (but not only!) over these two URLs: justiz-dolmetscher.de and bdue.de/en/bdue.
Way #3 - Google
search by Google for sworn translators in Germany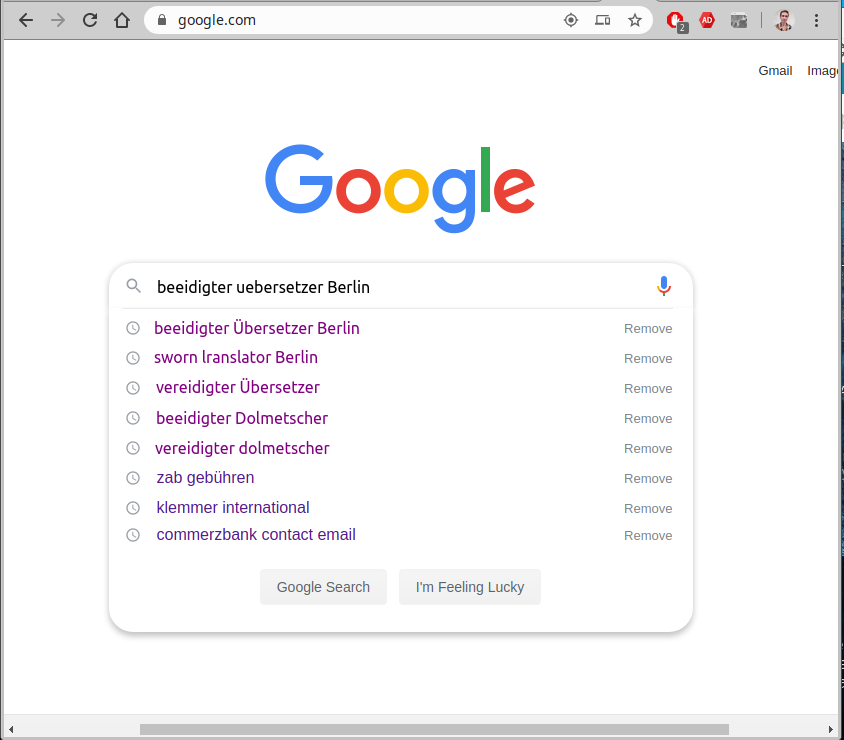 Tip 1: When choosing a translator, ask for the final amount of your translation cost. Not for a line or a letter or a number of characters, but exactly the price of your documents to be translated.
Tip 2: Let them specify whether the indicated price is with or without VAT (German: netto). Some translators are absent-mindedly or intentionally including VAT, which is not acceptable if the client is outside Germany. Also let them tell you whether it is possible to translate from a scan a copy sent by e-mail. For some e-mail translators, it is not possible for others - no problem.
Do all negotiations in written form, not by voice. In written form all promises and obligations are tracked. Therefore the agreements achieved between you and translator will be fixed.
How to translate documents into German via Internet
Go UP
---
27.06.20 - 25.01.21 ©️ Jaroslav Plotnikov ( All articles )