German National Visa - Checklist of needed and additional documents
Start your visa preparations with this checklist
The structure of websites of German embassies and consulates in different countries is not the same. Fortunately the search terms are similar.
On the website of the embassy/consulate you should only find out three things at first:
how to book an appointment in the respective embassy/consulate;
the checklist of necessary documents (German: Merkblatt);
the visa application form.
This article is about the checklist.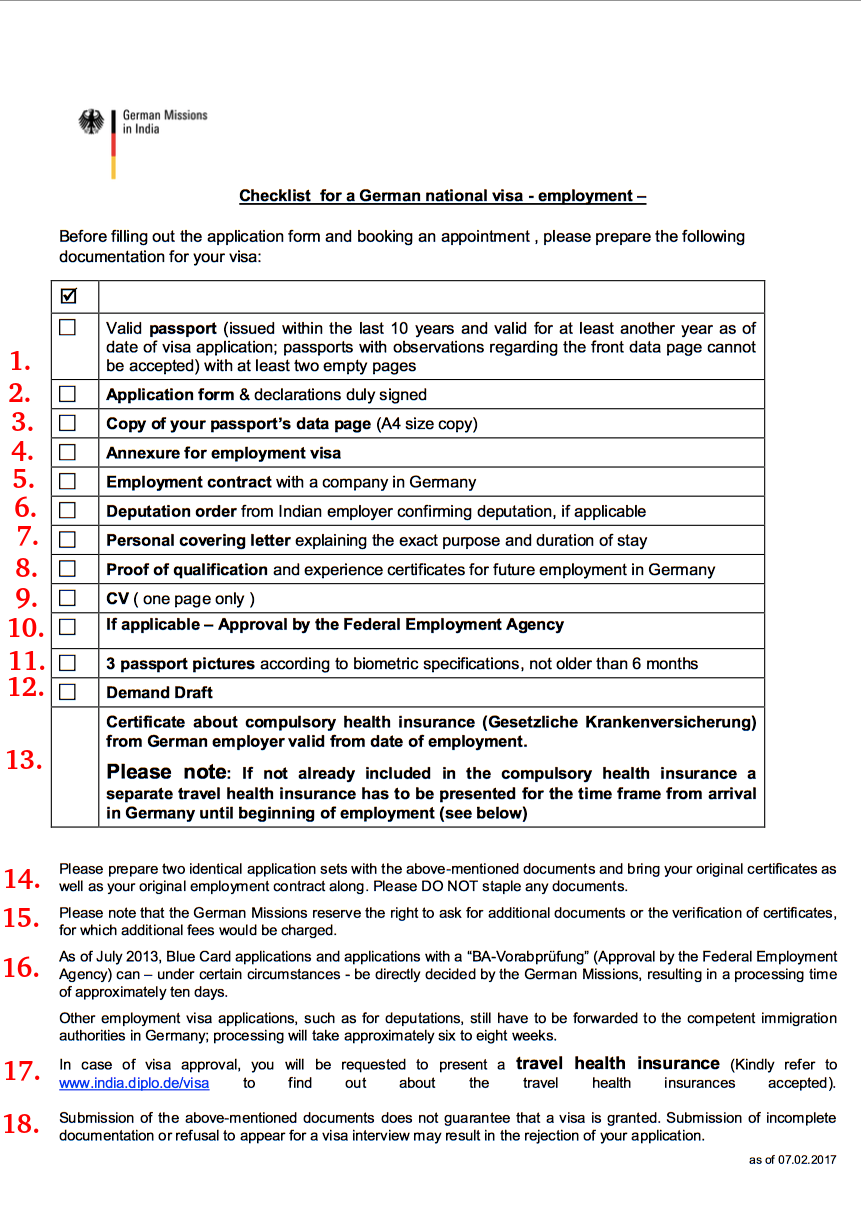 Screenshot 1 (Source German Missions in India)
In my opinion, the instructions on the website of the German embassies are not clear enough. What to do?
My recommendation: prepare and bring the extended list of documents to the embassy.
The extended list includes: a) Mandatory documents, b) Additional documents, c) all other documents, directly or indirectly related to your education and stays abroad.
Documents
Mandatory documents
These are documents given on the websites of German Missions in various countries of the world. Start to collect them first. Based on example of the checklist Employment Visa (EU Blue Card) from German Missions in India.
Passport
Application (and Declaration in accordance with Section 55 (2) of the Residence Act [link])
Contract/binding job offer with details of gross annual salary.
German university degree or recognised foreign degree comparable to a German degree
Curriculum vitae of professional career, including certificates, diplomas, etc.
Passport photos
Health insurance As a foreign worker, you will most likely be compulsory (or statutorily) insured from your first day of work. Note that you could also be privately insured. However Blue Card holders have private insurance in very rare cases.
Furthermore, you have to be insured for the period between your arrival in Germany and the actual start of your employment, even if it is only one day.
If your compulsory insurance doesn't cover the time span before the day of entry and the first day of employment you need so called Travel insurance to cover that tme span.
Section 7 of the checklist says that the period between entry in Germany / EU and start of employment ideally should be included in your insurance coverage.
If this is not the case, you will also need a temporary, so-called Travel Insurance (Reiseversicherung), which covers the period between the entry and your first workng day.
Additional documents
These documents required by German embassy only in a certain countries or in particular cases when there is a doubt whether or not the person is entitled to the visa.
Copy of the passport datapage. In general, the embassy expects you to submit the original documents and 2 additional simple copies. My suggestion - to be on the safe side, always prepare 3 copies. The third simple copy doesn't cost much, but saves you a lot of stress and time in case of an unforeseen situation.

Screenshot 2. - Perfect postion of your passport while scanning (Source: Mgwork.com)

Screenshot 3. - Non-recommendable postion of your passport (Source: Migwork.com)

Annexure for employment visa
Deputation order
Cover letter
Approval by the Federal Employment Agency
It could be possible that you might be asked to submit further documents .
How to proceed - see recommended articles below
COULD BE ALSO USEFUL FOR YOU:
Your Steps in the German Embassy
Etiquette in a German Embassy

---
17.04.20 ©️ Jaroslav Plotnikov (All articles)