Annexure - this form required in German Embassy in India
This form (fullname Annexure for employment visa) you will fill together with your German employer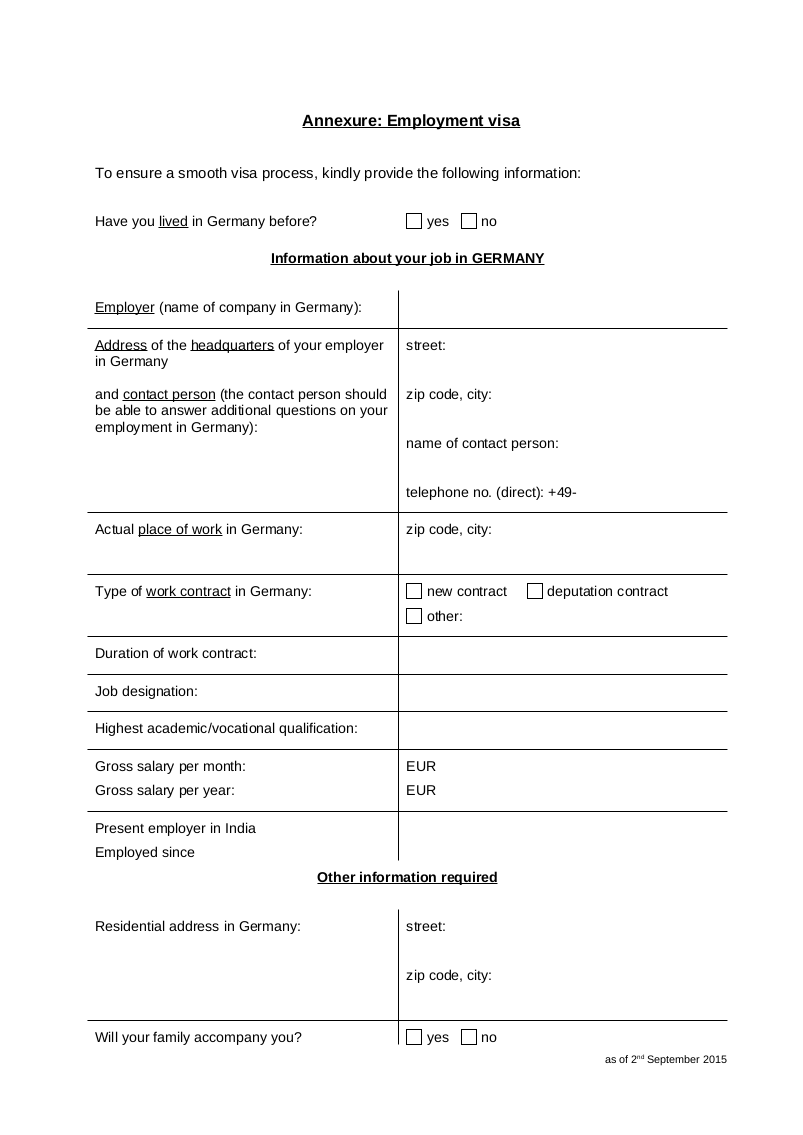 Screenshot 1 (Source: German Embassy New-Delhi)
Filling this form is pretty easy, but please let me to explain just a few points.
Have you lived in Germany before?
This question includes the stay more than 90 days. So, if you have been in Germany for less than 90 days at one time and have not been registered (Anmeldung), the correct answer is: NO.
Employer (name of company in Germany)
Email this form to your German employer. Ask him not to fill the form but just answer the questions and email them back to you. After that copy+paste them to this form (s.screenshot 1).
Present employer in India
Enter the name of the company and the starting date as stated in your job contract. In some cases the embassy can require the Certificate of employment.
Residental address in Germany:
If you have no such address yet, just leave it blank. However there following options to increase your chances of quick and positive respond from the embassy:
book an Airbnb-accomodation (or similar) or a hotel / hostel / guesthouse. Choose only "free cancelation" and "no advance-payment" offers. Use that address.
find someone who can offer you a flat or room as a temporar rent contract (Zwischenmiete) or a sublease renting contract (Untermiete).
ask your employer if he could help you with a temporar accomodation. If you cannot move in there politely ask if you can use that address in the embassy form because the available address in Germany can positively influence the processing of your application.
Note 1: Remember that the embassy can require the confirmation of that address, so choose the address carefully.
Note 2: in Germany the zip code (German: PLZ) is so important that in most online forms it is a required field. So, enter the zip code for addresses in Germany is an absolute must!
Entering the zip code while entering addresses in your country is not a mandatory however I strongly recommend this. Thus the German official will not stumble on missing zip code reading your documents.
Will your family* accompany you?
The answer is YES if your family immediately accompanies you or intends to come to Germany within the next 6 months.
Don't worry. You can easily bring your family to Germany later on.
Tip 1: Write names, calendar date formats and county names exactly as they are written in your passport.
Tip 2: Write in easily readable letters! Even better if you can fill out this form electronically (in the computer). Then you only need to print 3 copies of it and sign it.
*- according to German law, the term "family" includes only the spouse and minor children. No brothers, no parents.
COULD BE ALSO USEFUL FOR YOU:
German National Visa - Checklist of needed and additional documents Search Ad tutorial – Portal WG-Gesucht
---
08.04.20 ©️ Jaroslav Plotnikov (All articles)