High-demand occupations in Germany – Mangelberufe in IT branch
Is your profession on the high-demand in Germany? Check it out here
For IT professionals or even IT students it is getting consequentially easier to stay in Germany. Even if you don't speak German.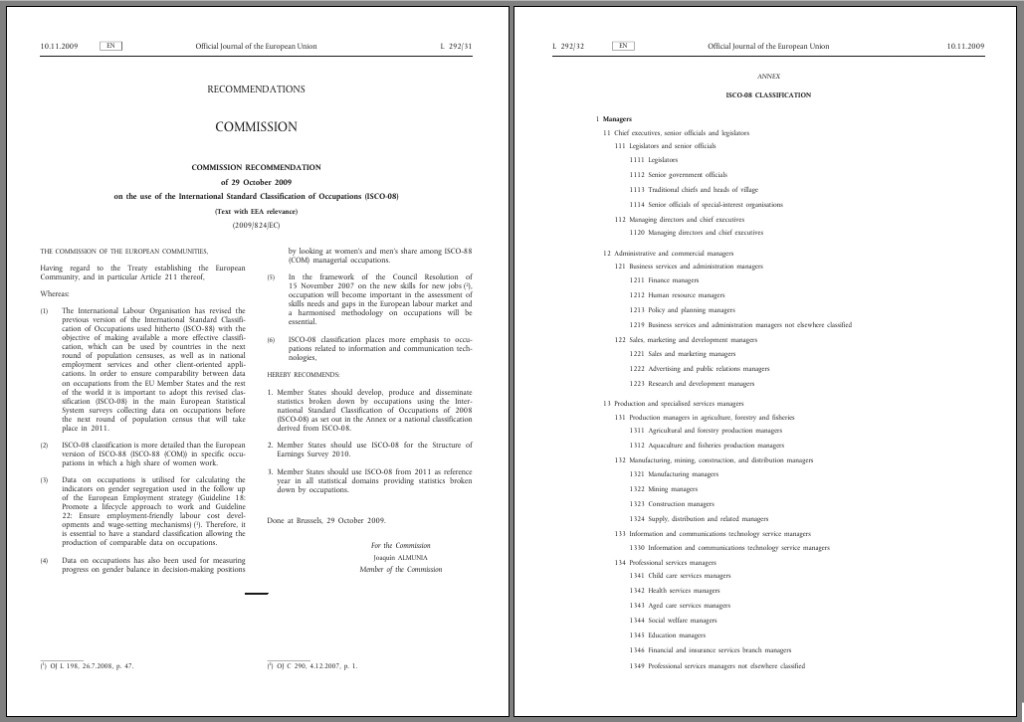 Screenshot 1. (Source: Department of Statistics, International Labour Office, Geneva)
The original title is: Liste der Mangelberufe. I would translate it into English as "high-demand ocupations list". However, the Federal Ministry for Migration* (short: BAMF**) prefers the other term: "occupations which are regarded as jobs where there is a shortage of applicants". Service Portal Berlin speaks about "shortage occupations"***.
So when I say "high-demand ocupations", remember that it's my translation from the "Mangelberufe".
German Federal Office for Migration (BAMF) explains: "Section 2 subs. 2 of the German Employment Ordinance stipulates which occupations are regarded as jobs where there is a shortage of applicants****. These are occupations belonging to Groups 21, 221 and 25 of the International Standard Classification of Occupations (ISCO), and particularly include … mathematicians, engineers, … and skilled academic personnel in the field of information and communication technology" – s. link "BAMF publications" in the end of this article.
In Germany there is only one official language – German. This means that employment law and job titles are all in German. That's why I thought it was appropriate to list the same professions in German as well. Remember that only the IT professions are listed in this particular article. For the whole high-demand occupations list follow the link to the ISCO-08 (at the end of this article).
Are you curious whether your profession is certainly one of the high-demand occupations? Wanna check it out?
Step 1: check out the list below. If you don't find your profession there, do step 2;
Step 2: check out the International Standard Classification of Occupations (ISCO-08)**. If you still can't find it, do step 3;
Step 3: send me your questions below as a comment (anonymously and without registration).
Could you find your profession on the list below? My congratulations – you would easily get the German entry permit and the Blue Card EU.
Good news! Probably all the ccupations in the IT branch count as high-demand occupations (Mangelberufe). In other words, as soon as you're from the IT industry, you are in a priviliged position and you can apply for the lower minimum salary.
In 2020 it contains €43.056 of gross annual salary. This is equivalent to €3.588 per month, which is very common in the IT sector on the German labor market. More information about salaries s. Realistic salary in German IT branch.
A fragment from ISCO-08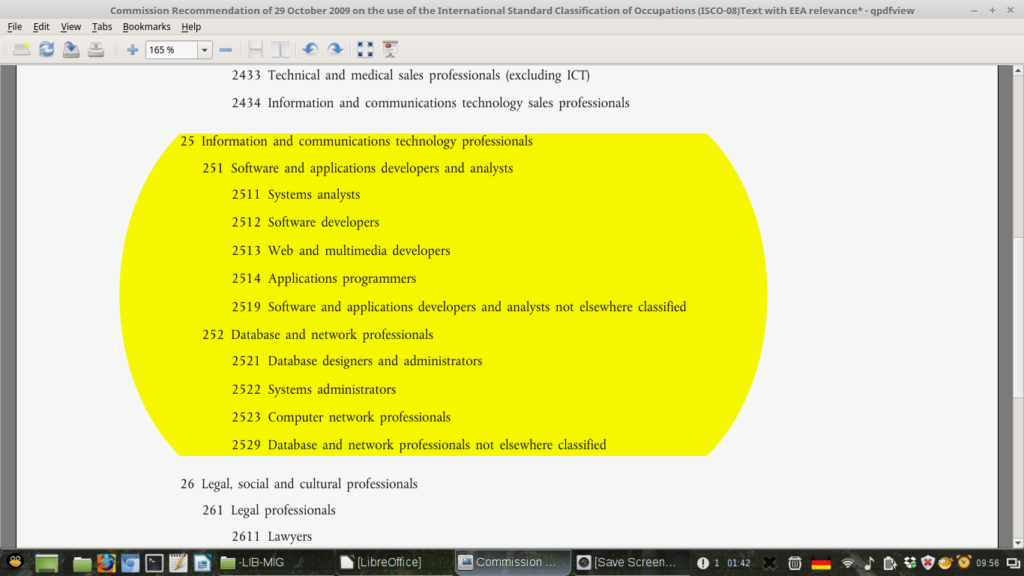 Screenshot 2. (Source: ec.europa.eu)
DEUTSCH – High demand occupations in Germany (the fragment):
25 Akademische und vergleichbare Fachkräfte in der Informations- und Kommunikationstechnologie
251 Entwickler und Analytiker von Software und Anwendungen
2511 Systemanalytiker
2512 Softwareentwickler
2513 Web- und Multimediaentwickler
2514 Anwendungsprogrammierer
2519 Entwickler und Analytiker von Software und Anwendungen, anderweitig nicht genannt
252. Akademische und vergleichbare Fachkräfte für Datenbanken und Netzwerke
2521 Datenbankentwickler und -administratoren
2522 Systemadministratoren
2523 Akademische und vergleichbare Fachkräfte für Computernetzwerke
2529 Akademische und vergleichbare Fachkräfte für Datenbanken und Netzwerke, anderweitig nicht genannt
ENGLISH – High demand ocuupations in Germany (the fragment):
25 Information and communications technology professionals
251 Software and applications developers and analysts
2511 Systems analysts
2512 Software developers
2513 Web and multimedia developers
2514 Applications programmers
2519 Software and applications developers and analysts not elsewhere classified
252. Database and network professionals
2521 Database designers and administrators
2522 Systems administrators
2523 Computer network professionals
2529 Database and network professionals not elsewhere classified